New York — For a better understanding of the U.S. military campaign in Afghanistan and the regional fallout, Robert Greenan turns to Web sites from surrounding countries.
Relying on U.S. media alone would leave him with viewpoints diluted "through our cultural upbringing and the way we see the world," said Greenan, who compiles an online "Global Views" newsletter for the nonprofit Foreign Policy Assn. in New York.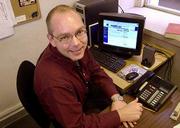 At the University of Missouri, journalism research fellow Monideepa Banerjie visits sites in Pakistan and her native India. While U.S. news organizations were focused mainly on anthrax, she was reading elsewhere about the implications of a power vacuum in Afghanistan should Taliban rule collapse.
Through the Internet, Americans are getting non-American viewpoints to an extent not possible during past conflicts. If World War II was experienced largely through radio and Vietnam was a war defined by television, this "war on terrorism" could be deemed the United States' first Internet war.
For that truly to be so, Americans will need to partake more deeply of the buffet of international viewpoints and news sources the Internet offers.
Visits to foreign sites by Americans have increased since Sept. 11, but they remain relatively low, limited largely to foreign policy scholars, expatriates and information junkies.
Other Americans are missing in-depth coverage of economic aid, refugees and other developments that "don't figure as prominently here because we live so many thousand miles away," said Sree Sreenivasan, new media professor at Columbia University.
The Associated PressHere are some news sites to visit for non-U.S. perspectives.Regional news sources:Al-Ahram,
www.ahram.org.eg/weekly
. Newspaper in Cairo, Egypt, with weekly edition in English.An-Nahar,
www.naharnet.com
. Daily in Beirut, Lebanon.The Daily Star,
www.dailystar.com.lb
. Beirut-based newspaper.The Jerusalem Post,
www.jpost.com
. Israeli paper.The Times of India,
www.timesofindia.com
. Widely read English-language daily.Outlook India,
www.outlookindia.com
. Online component to newsmagazine.Dawn,
www.dawn.com
. English paper based in Karachi, Pakistan.Al-Bawaba,
www.albawaba.com
. Middle East information portal covering 21 Arabic countries or territory, mostly rewriting reports from other news sources. Operates out of Amman, Jordan, and London.Afghanistan Online,
www.afghan-web.com
. U.S.-based collection of Afghan news items and official statements from throughout the world.Payam-e-Mujahid,
payamemujahid.com
. Pro-northern alliance weekly newspaper published inside Afghanistan. Limited English content.Western news sources outside the United States:British Broadcasting Corp.,
www.bbc.co.uk
.The Guardian,
www.guardian.co.uk
. British newspaper.Canadian Broadcasting Corp.,
www.cbc.ca
.International Herald Tribune,
www.iht.com
. Based in Paris.Newspaper portals:
www.ecola.com
www.newspapers.com
www.thepaperboy.com.au
www.worldpress.org/gateway.htm
U.S.-based news organizations, including The Associated Press, do cover those issues, but those stories sometimes get left on inside news pages or several links deep on Web sites.
'Buyer beware'
Some stories can best be done by foreign journalists able to blend in with the population, said Asim Mughal, who runs an online Pakistan News Service from San Francisco using local reporters in Pakistan.
Giora Shamis, editor of the Israel-based DebkaFile, said his reporters have been covering terrorism since the mid-1980s and bring a unique understanding of regional politics, religion and mentalities.
The Internet's opportunities also carry risks.
DebkaFile, for instance, has its share of solid reports but also has admitted to mistakes. Its heavy reliance on anonymous sources has prompted comparisons to Internet gossip columnist Matt Drudge.
Other sites merely rewrite or link to Western news stories, while some present statements from Taliban officials including claims of civilian deaths that may be exaggerated without attempts at independent verification.
As well, many news outlets in the region are government-controlled.
"There is a 'buyer beware' element for the consumer," said Bob Steele, director of ethics at The Poynter Institute, a journalism research center. "Virtually anybody can create a site and call it journalism."
Even so, Stanley Kober, a foreign policy researcher at the Cato Institute, finds those resources helpful. After all, he said, that's how people in those countries receive the news.
Respected news organizations in the region include Dawn in Karachi, Pakistan, The Times of India and An-Nahar in Beirut, Lebanon. The British Broadcasting Corp. and other Western sources provide non-U.S. perspectives.
Develop an understanding
Americans who speak Arabic have even more choices, including the site for al-Jazeera, the Qatar television network that has been airing taped statements by Osama bin Laden.
Few outlets exist in Afghanistan, but several expatriates run sites from the United States. Abdullah Qazi and his two brothers scan sites throughout the world for stories and official statements they could post.
"Different papers from different countries see the same situation in different ways," said Qazi, who lives in northern California. "If you put everything out there, people can ... develop an understanding of what's going on on their own."
Qazi's Afghanistan Online site and the Dawn newspaper both had about 100,000 U.S. residential visitors in September, according to Nielsen/NetRatings. In August, they weren't even high enough to register. But those numbers are dwarfed by CNN's 14 million and MSNBC's 12 million.
Even as U.S. traffic grew following the attacks, foreign traffic increased even faster, according to comScore, so the proportion of visitors from the United States actually shrank at several foreign sites.
Television remains the primary news source in the United States, and only some Americans can get al-Jazeera through satellite TV. By contrast, satellite or cable services abroad carry Western sources like CNN, ABC and BBC.
It's not yet clear how the diversity of news sources might ultimately affect the war and public opinion. Travel within Afghanistan is difficult for journalists, and the country has few Internet connections.
Clarence Wyatt, a Centre College history professor who wrote about U.S. coverage of the Vietnam War, thinks the Internet may play a greater role on the home front, citing its role in helping Americans circulate firsthand accounts of the Sept. 11 attacks.
Copyright 2018 The Associated Press. All rights reserved. This material may not be published, broadcast, rewritten or redistributed. We strive to uphold our values for every story published.