Talladega, Ala. — Dale Earnhardt Jr. wanted this victory for all the naysayers out there.
Earnhardt charged by Bobby Labonte on the last lap, leaving him and a 16-car wreck behind while racing to the checkered flag Sunday at Talladega Superspeedway. He later failed inspection, but there was virtually no chance he would be disqualified.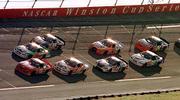 The victory in the EA Sports 500 was sweet validation for Earnhardt, whose July win at Daytona was questioned because it came in the first race there since his father's fatal crash in the Daytona 500.
Earnhardt Jr. so dominated the Pepsi 400 that some drivers wondered whether NASCAR allowed him to use a more powerful engine. This time, on the only other track where engine rules restrict the speed of the cars, the victory didn't come easily.
"It was a rough race," Earnhardt said before addressing the Daytona fix issue. "This put all those people in the beds they made. It feels good."
NASCAR announced hours after the race that Earnhardt's Chevrolet was an 1/8-inch short of the minimum height requirement.
The team will be fined Monday, but there was almost no chance Earnhardt would be stripped of the win, with the victory going to runner-up Tony Stewart.
"The precedent has been that the victories have been allowed to stand," NASCAR spokesman Jim Hunter said. "Penalties in the past have included anything from fines to a loss of points, but we just don't know yet."
Labonte shot into the lead on the 184th of 188 laps. Earnhardt in or near the lead all day, slid to fourth before mounting one last charge.
The 26-year-old driver took his Chevrolet to the outside groove and powered toward the front with Jeff Burton's Ford pushing him along.
Earnhardt dived into second place on lap 186 and stayed there until he shouldered his way under Labonte's Pontiac in turn one on the final lap.
As Earnhardt pulled away, chased by Stewart, Labonte drove high on the track to block Bobby Hamilton. They bumped, and Labonte's car slammed into the concrete wall and turned over.
"I tried to make a move on Bobby and he went high to block me and either I got under him or he got into me," Hamilton said. "It scared the hell out of me because I looked back in the mirror and he was up in the air."
Among those caught in the melee were Ricky Rudd, Dale Jarrett, Johnny Benson, Robert Pressley, Sterling Marlin, Bill Elliott, Ward Burton and Buckshot Jones. There were no injuries.
Stewart drove a strategic race. He was far back in the field of 43 until the last 50 laps, then charged into contention and finished second.
Copyright 2018 The Associated Press. All rights reserved. This material may not be published, broadcast, rewritten or redistributed. We strive to uphold our values for every story published.