Recently, a friend asked me if there is a difference in image quality when a digital picture is recorded on a CD, compact flash card, smart media card, memory stick or micro drive. He also asked if the recording media had an effect on the life of a picture.
The answer to all those good questions is, simply, no. Digital pictures (digital files) look the same when they are recorded on different media.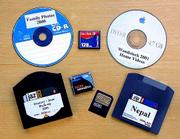 I did mention that it's important to download pictures from a camera to a hard drive as soon as possible. After they are loaded on the hard drive, pictures should be saved on a CD-R, DVD-R, JAZ or ZIP disk.
I also mentioned to my friend that pictures could be opened at a later date without a loss in quality if saved in the TIFF, Genuine Fractals or Photoshop format (JPEG files lose quality when they are repeatedly opened).
Storage devices have a life as do prints. However, because digital imaging is still relatively new, tests thus far on how long digital images will last are inconclusive. Some experts say that the data on a CD-R and DVD-R will last 75 to 100 years, and that files on JAZ and ZIP drives might last a few years less.
In my opinion, I said, storage life isn't really relevant. That's because the aforementioned storage devices probably will not be around in the next century going the way of the 3.5-inch floppy disk, a storage device that used to be popular, but one that can't be used with some newer computers.
Not to worry, I said. The change in technology will not come overnight; there will be devices that let you transfer old images to new storage devices in the future. (You can still buy 3.5 disks and accessory 3.5 drives for new computers that fit into USB ports.)
One thing I stressed is storage capacity. All too often, people buy storage devices that don't hold enough pictures (read: don't have enough memory). I recommend going for the largest capacity memory device you can afford. After all, if you don't have enough memory, you might not be able to record all your memories.
In most cases, a 64MB memory card has enough storage capacity for a family vacation; at the high/best setting on a digital camera, you'd get around 64 pictures that's 1MB per picture. For serious picture-takers, I suggest a 128MB or 192MB in-camera storage device.
When it comes to storing pictures at home, CD-Rs, with 700MB of space, are practical for those who want to store lots of pictures in one place. A DVD-R, with 4.7GB of space, will hold more pictures than you'd take while your child is growing up.
JAZ disks, with 2GB of space, will probably hold more pictures than you'd take in a year. Therefore, for most family digital photographers, I recommend a 100MB ZIP disk as a storage device using one disk a year to store family memories.
Happy shooting, and saving and storing your digital pictures.
Copyright 2018 The Associated Press. All rights reserved. This material may not be published, broadcast, rewritten or redistributed. We strive to uphold our values for every story published.