Nashville, Tenn. — Themes of patriotism, generosity and defiance of terrorism sounded as top country stars staged the Country Freedom Concert, the third benefit concert of the weekend.
"Let freedom ring!" Martina McBride sang in the opening song, her hit about spousal abuse, "Independence Day."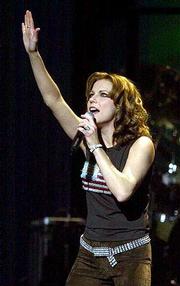 The crowd cheered at a later line that seemed aimed at terrorists who killed thousands on Sept. 11 in New York, Washington and rural Pennsylvania. "May the guilty pay," McBride sang.
Also on the lineup for the show were Alan Jackson, George Jones, Lonestar, Lee Ann Womack, Keith Urban, Sara Evans, Diamond Rio, Montgomery Gentry, Hank Williams Jr., Brooks & Dunn, Vince Gill, Trisha Yearwood, Tim McGraw, Earl Scruggs and Clint Black.
In Washingon, meanwhile, tens of thousands of music fans gathered in the capital Sunday to see Michael Jackson, 'N Sync, Aerosmith and an array of other pop stars at a marathon concert to celebrate America and raise money for victims of September's terrorist attacks.
"United We Stand: What More Can I Give?" raised about $2 million through the sale of more than 46,000 tickets. It was one of three benefit concerts over the weekend.
The Backstreet Boys sang the national anthem to kick off the sold-out show at RFK Stadium. "We can't let them defeat us," said band member Kevin Richardson. "We have to get up, get out and live our lives every day."
The concert ended with a grand finale early today, more than 11 hours after it began. Under a spray of red, white and blue confetti, Jackson joined onstage by the other artists sang his new song written for the attack victims, "What More Can I Give?"
To the families of the victims, Jackson said, "You are not alone. You are in our hearts, in our thoughts and in our prayers."
James Brown took the stage dressed in a gold suit. He segued from his classic "Sex Machine" to "God Bless America." The audience sang along to the latter and waved small American flags.
The crowd which had been on its feet for almost the entire concert sat down at one point at the request of Bette Midler. "I want to sing you a song not of sorrow but of hope," Midler said before her ballad, "The Rose."
The crowd obliged but was on its feet again when she finished.
Among the other performers were Mariah Carey, Rod Stewart, Aerosmith and Destiny's Child. Parts of the concert will be televised Nov. 1 in a two-hour special on ABC.
Security was tight outside RFK, with long lines forming as police searched concertgoers many clad in red, white and blue with handheld metal detectors.
Paul McCartney, David Bowie and Billy Joel headlined the Concert for New York at Madison Square Garden on Saturday night.
Proceeds from the Washington concert will go to the American Red Cross Liberty Fund, the Salvation Army Relief Fund, the Pentagon Relief Fund and the Rewards for Justice Fund.
Nashville proceeds will go to the Salvation Army and for financial help for families affected by the suicide hijackings.
Copyright 2018 The Associated Press. All rights reserved. This material may not be published, broadcast, rewritten or redistributed. We strive to uphold our values for every story published.