Tempe, Ariz. — Jake Plummer built his reputation on last-minute comebacks. This time, he watched helplessly from the sidelines as Trent Green tried to perform a miracle finish for the Kansas City Chiefs.
Green fell 2 yards short.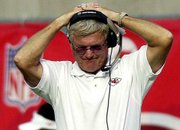 Corey Chavous intercepted Green's pass in the end zone with one second to play after the Chiefs had driven 97 yards from their own 1, and the Arizona Cardinals held on for a 24-16 victory Sunday.
"We've done that a few times," Plummer said. "I know what it's like for Trent over there. He was just throwing it up and his guys were making plays, but we stopped them and we got a win."
Michael Pittman rushed for 95 yards in 26 carries and caught four passes for 42 yards. His 24-yard touchdown run put Arizona up for good, 10-9, with 9:17 left in the third quarter.
Kwami Lassiter's interception, which led to Arizona's next touchdown, was the third pick of the season for the former Kansas defensive back.
Thomas Jones ran 13 yards for a TD as the Cardinals scored on their first three possessions of the second half to take a 24-9 lead, the first time they had been ahead by as many as 15 points in 42 games.
Plummer completed 16 of 25 passes for 228 yards, including a 23-yard touchdown pass to David Boston. For the second game in a row, he did not throw an interception. Plummer also scrambled three times for 20 yards.
Only 35,916 watched the game in 73,000-seat Sun Devil Stadium.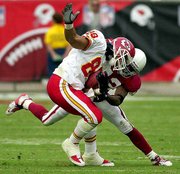 "I don't know what the ticket count was, but they got their money's worth," Arizona coach Dave McGinnis said. "This football team is not in any position to apologize for wins. We took control of the football game, and then gave control back to them, then we came back and finally took it."
Green completed 21 of 43 passes for 352 yards and a touchdown, but was intercepted twice. Priest Holmes carried 13 times for 85 yards.
"It's a frustrating thing," Green said. "There were times I wasn't on, there were times there were drops, and there were times we just couldn't get things done."
Kansas City lost its third straight and fell to 1-5 under first-year coach Dick Vermeil, its worst start since opening 1-9 in 1987.
"When you're 1-5, you're not very good," Vermeil said. "I think we're better than that, but it doesn't matter what I think. We had a chance to play a team today that wasn't a playoff team last year and we didn't beat them. They beat us, and it was no fluke win."
Arizona (2-3) has won two of three.
"This football team is going to grow up this season, and today was a big time of grow-up," coach Dave McGinnis said.
The Chiefs took over on their 1 after Arizona's punt with 1:06 to play, and Green completed passes of 24 yards to Tony Gonzalez, 43 to Derrick Alexander and 21 to Marvin Minnis. Another 9-yard pass to Minnis put the ball on the 2, and Green spiked the ball to stop the clock with seven seconds left.
On fourth-and-1, Green threw deep into the end zone trying to hit big tight end Mikhael Ricks, but cornerback Adrian Wilson deflected the ball into the hands of Chavous to preserve Arizona's fifth victory in 26 games against AFC foes since 1995.
"I've got to credit Adrian on that," Chavous said. "He jumped the route, and I just reacted to where the ball went after that."
Arizona's young defense held the Chiefs without a touchdown until Holmes rambled 41 yards, then Green threw 34 yards to Alexander to cut the lead to 24-16 with 3:57 remaining.
Kansas City got the ball at the Arizona 45 with 3:13 remaining after holding the Cardinals, but Holmes and Minnis each dropped passes, and Green threw two more incompletions.
Arizona had to punt again and MarTay Jenkins knocked the ball out of bounds at the Chiefs 1. The Cardinals looked in great shape, then Green mounted a drive that almost tied it, had Kansas City scored and made the two-point conversion.
"We've come into a profile where we make a few plays at the end and make it interesting," Vermeil said, "where if we could make those plays earlier, it wouldn't be nearly as trying and we'd have a victory."
The Chiefs were penalized 10 times for 107 yards.
Aided mightily by two Kansas City penalties, the Cardinals took the second-half kickoff and went 80 yards in 10 plays. Pittman went over right guard 24 yards for the first touchdown to give Arizona a 10-9 lead with 9:17 left in the third quarter.
The Chiefs appeared to have stopped the Cardinals when Plummer threw the ball away on third-and-14 from the Arizona 46, but Eric Hicks was called for roughing the passer on the play. The Cardinals also got a first down on a defensive holding call.
The Cardinals went 95 yards in 16 plays for their second touchdown drive, which consumed 8:51. Plummer hit Boston on a slant play for the score. Boston, who had seven catches for 131 yards, had dropped the pass on the same play in last week's 20-13 loss at Chicago.
Kansas City led 9-3 after an ugly first half that featured seven penalties for 82 yards against the Chiefs and two turnovers by Arizona, both caused by hits from Eric Warfield.
Todd Peterson kicked field goals of 49, 29 and 33 yards in the first half.
Notes: The Chiefs ran three offensive plays in the third quarter. ... Boston, whose hotdogging after a touchdown was used in an NFL video on how not to behave, kept up his new image by calmly tossing the ball to the referee after his score.
Copyright 2018 The Associated Press. All rights reserved. This material may not be published, broadcast, rewritten or redistributed. We strive to uphold our values for every story published.