Local charities and non-profit groups are concerned donations to relief efforts related to the Sept. 11 attack may reduce giving to other worthy causes.
"All the nonprofits are going to be hurting a little bit," said Lee Knox, who is in charge of on-air fund raising for KCPT, the Public Broadcast Station in Kansas City, Mo.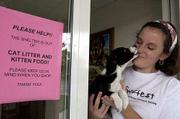 Because of the attack, KCPT delayed its on-air fund-raiser and has indefinitely postponed a campaign to raise money for construction, Knox said.
People who raise funds for charitable groups say they support efforts to help the families of victims in the terrorist attack, but they want to remind folks that the work of building a better local community continues, and that costs money.
Jo Bryant, executive director of the United Way of Douglas County, said the attack has had both positive and negative effects on giving.
Bryant said she believes more people are in a giving spirit because of the attacks, but she said many folks "who have one charitable gift in their budget," are opting to support terrorist attack relief.
National support
One of the main groups receiving funds for disaster relief is the American Red Cross, which reports donations or pledges totaling $441 million. The Red Cross estimates it will spend $300 million over the next several months to help the families of victims and rescue and recovery efforts. Some services will be provided for years.
"Because this disaster has been so unprecedented, there has been an outpouring of support from the American public," said Shannon McElligott, a spokeswoman from the Red Cross national headquarters in Washington.
McElligott said she believes people will donate both to the Red Cross and their local groups. "The American public is really generous with what they feel in their heart. We encourage Americans to continue to support local charities and continue to make a difference in their community."
Bryant, with the local chapter of the United Way, said, "I applaud people who give charitably, regardless of who they give to. But I would also remind them that they can help people here at home. I hope they will."
United Way of Douglas County helps support 29 groups that provide a range of health and welfare services. The organization's goal this year is to raise $1.462 million.
Bryant said it was impossible to tell how current donation levels compared with last year because some businesses and local units of government have started their United Way campaigns at different points during the two years.
Fund-raising efforts also must contend with a weakening economy.
Knox with KCPT said many of the station's donors receive their main income from stock transactions, and she expected those donations to decrease because of problems in the stock market.

Local causes
Midge Grinstead, executive director of the Lawrence Humane Society, said a fund-raiser about two weeks after the attack brought in more money than the same event last year.
But, Grinstead said, walk-in donations of money and pet supplies have decreased since the attack.
"I'd be lying if I said I wasn't concerned about the fourth quarter," she said.
Even so, Grinstead said she believes the people of Lawrence will come through for local organizations. "Lawrence is the greatest place to be. If people perceive that you are working hard and doing a good job they will support you," she said.
KANU, the National Public Radio station at Kansas University, completed its pledge drive this week, matching its goal of $165,000 in good time, according to Janet Campbell, the station's general manager of the station.
In fact, she said, the station picked up new members from people who said they only started listening to the station after the Sept. 11 attack in order to get more news coverage.
"We did very well," she said, but added that raising funds now is a delicate endeavor.
"We certainly don't want to appear like we are capitalizing on the tragedy," she said, but the station was an important news source during the attacks and now during subsequent developments.
Knox said groups may see a lag in donations but that if they are part of the daily life of a community, they will do well. "The person selling the Veg-O-Matic on TV now has a much harder sell than we do."
Copyright 2018 The Lawrence Journal-World. All rights reserved. This material may not be published, broadcast, rewritten or redistributed. We strive to uphold our values for every story published.