Shanghai, China — President Bush and Russian President Vladimir Putin said Sunday they had made progress on a plan to dramatically reduce their nations' nuclear arsenals and could reach agreement over Bush's proposal to scrap the Anti-Ballistic Missile Treaty that has helped define U.S.-Russian relations for decades.
After meeting with the Russian president for more than an hour on the last day of an Asian-Pacific summit meeting in this Chinese city, Bush said the Sept. 11 suicide hijackings bolstered his case that the U.S. should build a missile defense system to thwart "terrorists who might acquire weapons of mass destruction to be delivered on ballistic missiles," even though such a system violates the 1972 treaty.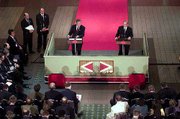 "A Cold War ABM treaty that prevents us from defending our people is outdated and, I believe, dangerous," Bush said in a joint news conference with Putin.
Putin said he considered such a scenario far-fetched. "It would be difficult for me to agree that some terrorists will be able to capture intercontinental missiles and will be able to use them," he said, adding that the treaty is "an important element of stability in the world."
Putin has indicated that he could agree to modify the treaty if both countries cut their nuclear weapons stockpiles, with a target of 1,500 weapons for both nations, down from about 7,000 now.
Though Bush said he did not address specific cuts with Putin, he said they had discussed significant reductions "within a framework that includes ... defenses that are able to protect both our lands from political blackmail, from potential terrorist attack."
The talks, they said, would continue next month when Putin is scheduled to visit Bush at his ranch in Crawford, Tex.
Aides said Bush was prepared to move forward with testing of his missile defense system even if the November talks do not result in an agreement. But that risks alienating Putin, who on Sunday gave Bush his full support for the U.S. military campaign in Afghanistan, calling it a "measured and adequate" action in response to terrorism.
The leaders said the Sept. 11 attacks on New York and the Pentagon have enhanced their friendship. Putin was among the first to call Bush with words of sympathy and support. Russia is providing intelligence and the use of its air space to assist the U.S.-led attacks in Afghanistan.
"The thing that really bound us together most right now is our common desire to fight terrorism," Bush said.
Putin went further than other foreign leaders at the Asia Pacific Economic Cooperation summit, praising Bush's response to the terrorist attacks, including the U.S.-led bombings in Afghanistan. "I fully agree with the position of President Bush," Putin said.
The Pacific Rim leaders approved a statement Sunday calling the Sept. 11 attacks "murderous deeds" that pose "a profound threat to the peace, prosperity, and security of all people, of all faiths, of all nations." The statement called for greater cooperation between nations to thwart terrorists, including cutting off funding for terrorist groups.
The statement, however, offered no specific support for the U.S.-led bombing in Afghanistan or the hunt for Osama bin Laden, the alleged mastermind of the attacks.
APEC has 21 members, including five with large Muslim populations: Indonesia, Malaysia, Singapore, China and the Philippines. Leaders of those countries have walked a careful line in condemning the terrorist attacks while not condoning U.S. bombings against a Muslim nation.
Copyright 2017 The Lawrence Journal-World. All rights reserved. This material may not be published, broadcast, rewritten or redistributed. We strive to uphold our values for every story published.