A Lawrence-based program that has helped thousands of troubled Kansas families keep their children from becoming wards of the state and its taxpayers will lay off 30 of 200 workers today. Another 30 will lose their jobs during the next 90 days.
Bruce Beale, executive director of DCCCA, ordered the layoffs after learning the program's family-preservation contract with the state Department of Social and Rehabilitation Services would be cut from a projected $12 million to $8.4 million.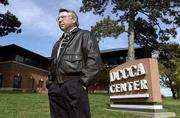 "We've been told to live within the $8.4 million allocation, starting immediately," Beale said. "That being the case, we have no choice but to start laying people off."
The reduction, Beale said, is sure to lead to more children being removed from their homes.
SRS officials aren't so sure. It's too early, they say, to know whether families can be routed to other programs or, perhaps, get by with less.
"It's too soon to predict what's going to happen," said Stacey Herman, pubic information officer at SRS.
SRS workers, Herman said, plan to "watch these families very closely to make sure they get the services they need."
Cutting referrals to family preservation services is one of many steps being taken to offset a $123 million shortfall caused by rising health-care costs and increasing numbers of children enrolled in HealthWave, the state's federally mandated health insurance program for low-income families.
Kansas privatized its family preservation, foster care and adoption services in 1996. Since then, SRS workers have referred more than 6,500 families to DCCCA-run programs after becoming concerned with parents' abilities to care for or cope with their children, making them likely candidates for foster care.
State reports show that 95 percent of these parents avoided having their children put in foster care.
"We provide in-home crisis stabilization," Beale said. "Our job is to go in, find out what precipitated the referral it may be that mom lost her job or the kids are truant or the utilities have been shut off fix the short-term problems, and then take on the longer-term causes.
"The process is very intense for the first 90 days," he said. "After that, we keep in personal contact to make sure things are OK. If they aren't, we jump back in again."
Currently, DCCCA provides services to about 800 families in 52 counties in eastern Kansas, including:
113 in Douglas County
22 in Franklin County
42 in Jefferson County
Citing an Oct. 9 memo from Joyce Allegrucci, assistant secretary in charge of children and family policy at SRS, Beale said he's been told to expect 1,000 fewer referrals between now and June 30, 2002, the end of the state's current fiscal year.
"Referrals drive our budget. We have to downsize," Beale said. "If we don't, we'd lose hundreds of thousands of dollars."
In recent weeks, SRS officials have defended the cuts, saying they think some of the families receiving family preservation are not serious candidates for foster care.
There may be a handful, Beale said, but they in no way justify a 33 percent cut in spending. And it's silly, he said, to think cutting family preservation will save money.
SRS now pays DCCCA about $3,850 a year for each family a single mother with three children, usually in its care. Families remain in the program for a year.
But for each child in foster care, other SRS contractors Kaw Valley Center, United Methodist Youthville, Kansas Children's Service League, The Farm, and St. Francis Academy are paid, on average, $2,100 a month for as long as the child lives outside the home.
Three children in foster care for a year, on average, cost taxpayers $75,600.
St. Francis Academy, Salina, has the family preservation contract for 53 counties in western Kansas. It, too, will be affected by the planned cut in referrals.
"We're studying the whole thing," said John Cosco, senior vice president at St. Francis Academy. "But we haven't made a decision on what we're going to do."
'Wrong direction'
News of the DCCCA layoffs surprised the state's advocates for children.
Gary Brunk, Kansas Action for Children's executive director, called the layoffs "terribly unfortunate."
"In all the changes that accompanied privatization, family preservation is the one great success story," Brunk said. "What's happening now is clearly taking us in the wrong direction."
Brunk does not blame SRS, noting that many of the department's problems medical inflation, for example are beyond its control.
He called on legislators to make the SRS budget their top priority upon returning to Topeka for the 2002 session on Jan. 14.
"This is in their laps now," he said.
But few legislators are aware of either SRS' plan to trim referrals or the layoffs at DCCCA.
"I'm shocked," said Rep. Brenda Landwehr, R-Wichita and chairwoman of the joint Children's Issues Committee.
"Family preservation is our front-line defense for keeping kids out of foster care as legislators, we've promoted that," she said. "I just don't understand SRS' thinking on this. The costs of having a family in 'family prez' and a kid in foster care don't even compare. This doesn't make sense."
But SRS officials say they have no choice. The department, they say, can't spend more money than it expects to take in.
"In years past, we've been able to look at State General Fund reports and know there was money in the state's bank account," SRS Secretary Janet Schalansky said. "And we could go to the governor and to the Legislature and try to convince them to put some of that money in SRS' account.
"But this year is different," Schalansky said. "The money is not there for us to go after."
More at stake
Denying family preservation services to families that need it may jeopardize the state's access to federal funding, which currently accounts for 54.5 percent of the money now spent on foster care.
Under the federal 1997 Adoption and Safe Families Act, states must make "reasonable efforts to preserve and reunify families" before children are put in foster care. If they don't, they stand to lose their federal funding.
Making family preservation services available is considered a reasonable effort, said Douglas County Juvenile Court Judge Jean Shepherd.
"If a child is found to be at risk of being removed from the home and if the state has not made a reasonable effort to prevent that removal, then the state will have to assume the costs of caring for that child," Shepherd said. "The feds don't have to pay for it."
A family's not having access to family preservation will not prevent the child from being put in foster care, Shepherd said.
"I cannot leave a child at home if that child is at risk," Shepherd said.
Harry McDaniel, spokesman for the division of children and family services within the U.S. Department of Health and Human Services regional office in Kansas City, Mo., said he's not sure of the consequences of cutting back on family preservation.
"A lot of states are being hit with budget crunches, and I'm afraid it's too early in the process to know how the funding shortfalls are going to affect services," McDaniel said.
"This is something we'll keep an eye on as it's happening, and it's something we'll work with the state on," he said. "We'll try to help them meet the requirements."
Copyright 2018 The Lawrence Journal-World. All rights reserved. This material may not be published, broadcast, rewritten or redistributed. We strive to uphold our values for every story published.