Atlanta — Randy Johnson won this one for himself and all the other Arizona old-timers who had never made it to a World Series.
The Diamondbacks reached the Series faster than any expansion team ever, doing it in only their fourth year of existence when Johnson pitched them past the Atlanta Braves, 3-2, Sunday night in Game 5 of the NL Championship Series.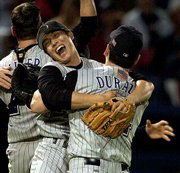 Craig Counsell, the only player on the Arizona roster with a championship ring, was picked as MVP after hitting .381 and scoring five runs.
"I'm just happy for all the guys who have played so many years," Counsell said.
Johnson, who had lost a record seven straight postseason decisions coming into the series, erased all doubt about his ability to win when it counted. He earned his second victory in six days, having won 2-0 in Game 1.
The Big Unit made his 118th and final pitch his best, striking out Brian Jordan with the bases loaded to preserve a one-run lead in the seventh inning. Fellow ace Curt Schilling applauded from the dugout, and patted Johnson when he reached the top step.
Now, the 38-year-old ace with three Cy Young awards steps onto baseball's biggest stage. He will be joined by 10 other thirtysomethings Mark Grace, Luis Gonzalez and Jay Bell among them making their first Series appearance.
"I realize how special it is," Johnson said.
Game 1 is Saturday night at Bank One Ballpark, against either the New York Yankees or Seattle Mariners. And Arizona has ominous news for anyone visiting the desert be it Schilling or Johnson, both aces will be fully rested for the opener.
"I think they've got a great chance," Atlanta manager Bobby Cox said. "They've clearly got the most outstanding back-to-back starters you could ever want."
Erubiel Durazo, pinch-hitting for the injured Grace, hit a tiebreaking, two-run homer in the fifth off Tom Glavine. Danny Bautista, starting on a hunch by manager Bob Brenly, had an RBI single.
Byung-Hyun Kim relieved Johnson and pitched two hitless innings for his second save, making Brenly the first manager to lead a team to the World Series in his first year since Kansas City's Jim Frey in 1980.
Putting Bautista in center field for Steve Finley was among his many moves that paid off.
"Because of the lack of postseason success of our veterans, I think they were willing to try whatever," Brenly said.
Counsell, who helped Florida beat Cleveland in Game 7 in 1997, fit neatly on a team that while being a relatively new franchise is loaded with longtime players. Many of them, including Johnson and Schilling, began talking in spring training about possibly going to the Series.
The Diamondbacks became the third visiting team in five years to clinch the NL pennant at Turner Field, following Florida in 1997 and San Diego in 1998. Glavine also lost both of those season-enders.
The defeat represented another bitter finish for the Braves. Despite a record run of 10 straight division titles, they have just one championship to show for it.
A startling small crowd of 35,652, about 15,000 short of a sellout, saw the Diamondbacks win their third in a row at Atlanta. It was no surprise this year, the Braves became the only team in baseball history to reach the postseason with a losing record at home.
Once again, Atlanta hurt itself with a misplay. Second baseman Marcus Giles botched Counsell's leadoff grounder in the fifth for an error and with two outs, Durazo homered. Durazo batted after Grace left with a tight right hamstring.
The Diamondbacks scored nine unearned runs in the five games against Atlanta. They have not yet given up an unearned run in this series.
Johnson, coming off the three-hit shutout in Game 1, had no trouble until Julio Franco hit a solo homer in the fourth that made it 1-all.
Johnson faced his toughest test in the seventh when a two-out walk to Giles set up Franco's RBI single. Chipper Jones then worked a tense, eight-pitch walk to bring up Jordan with the bases loaded.
Pitching on fumes, Johnson got Jordan to swing over a slider to end the inning.
Notes: Among the Arizona players going to the World Series for the first time is Mike Morgan, 42. He's played for a record 12 teams in the majors. ... The Diamondbacks swept a three-game series at Turner Field in August that put them into the NL West lead for the rest of the season. ... Bautista got the start despite not having a hit in the postseason and being just a .154 lifetime hitter against Glavine. Finley was leading Arizona in batting in the postseason and was a career .304 hitter against Glavine. Brenly said he thought Glavine would throw a lot of outside pitches, as always, and liked the way Bautista extended his arms.
Copyright 2018 The Associated Press. All rights reserved. This material may not be published, broadcast, rewritten or redistributed. We strive to uphold our values for every story published.