New York — She was so pretty so slender, so poised, her hair in a perfect blonde pony tail. Or maybe she was a redhead with a bubble-cut hairdo. Then one day she disappeared.
And now you want your Barbie back. You decide to keep searching until you find her.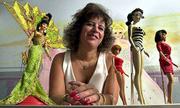 That's how the baby boomer quest for Barbie begins. Not the dolls on the shelf at Toys "R" Us or Wal-Mart, but the long-lost Barbies that some boomers would love to find again. The quest often takes them to antique dealers, doll fairs and Internet auction sites.
Dealers say it's all about seeking the comforts of a simpler time.
"We have a lot of women who had them and who are rekindling their childhood," said Deanna Overdorf, a boomer Barbie collector who also sells vintage dolls in her Adrian, Mich.-based business, D's Dolls.
That's helped drive up prices for older Barbies. Dolls that date to 1959, Barbie's first year, and the 1960s can run into the thousands of dollars.
It's not just Barbie that boomers seek there's a big market for other vintage toys including GI Joe and other action figures, Matchbox and other miniature cars and board games.
But Barbie tugs on heartstrings more than any other toy. Boomer mothers, who have bought multiple Barbies for their children, are a big reason why the doll brings in $1.5 billion a year in revenue for Mattel Inc.
Replacing a classic
Many boomers members of the generation born in the boom following World War II want to replace dolls that, like their brothers' comic books, were tossed into the trash or sold at garage sales, Overdorf said.
For some, getting a replacement Barbie can become something symbolic. Overdorf said of one of her customers, "Her psychiatrist told her to get the doll she had played with when she was young."
Boomers tend to look for dolls exactly like the ones they had as kids, said Sandi Holder, owner of Doll Attic, a store in Union City, Calif. So if a woman had a Barbie with a blonde ponytail or one with a brunette bubble cut, that's the doll she'll seek.
Depending on when the doll was made, its condition and how many are still in existence, that could be pricey.
Collectors look for Barbies and accessories of the highest quality, those that have never been removed from the box or that are free of wear and tear. These items can command prices in three, four and sometimes five figures.
But Holder said that doesn't faze customers looking for replacement Barbies.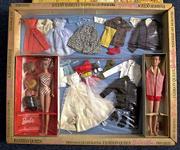 "They usually know what they're looking for, and they're accustomed to hearing the prices," she said, noting that she'd sold a first-issue mint Barbie still in the box for more than $10,000.
Holder was drawn to Barbie collecting for the same reason as many of her customers: "My mom tossed my Barbie and I wanted to pass it to my daughters."
Some boomers might want to look for Barbie clones, dolls brought out during the years by Mattel competitors who tried and failed to outdo her.
Tammy lags behind
One of the best-known was Tammy, made in the mid-1960s by a company called Ideal. Tammy always was a wallflower compared to Barbie and still is, judging by prices on the auction Web site eBay.
A mint Tammy, still in the box and never played with, recently sold for just under $90, compared with more than $3,000 for an early Barbie in similar condition. A collection of Tammy dolls and accessories sold for $710 but one unopened package of Barbie shoes and pocketbooks sold for $3,800.
If you're a boomer who only wants to replace a well-loved toy and doesn't need an investment-quality doll, these Barbies also can be bought from antique doll dealers or an auction Web site. And if the doll is in good (but not mint) condition you'll pay a lot less than what are known as NRFB (never removed from the box) models.
If you still have your Barbie, but it's showing the effects of having been slept with or used to bash your little brother, you might want to consider taking it to a doll hospital or a dealer who knows how to restore Barbies.
Some dealers say the economy has affected the Barbie business as well as collecting in general, but the demand for the dolls remains solid.
Jo Styers, a collector and dealer in Newton, N.C., reported her sales weren't as robust as they were a few years ago. But, she said of business, "It goes on all the time."
Styers said she had between 4,000 and 5,000 Barbies an easy total to achieve given the fact that as the doll's popularity has grown, Mattel has turned out hundreds of variations of the original Barbie.
That's made Barbie a vastly different plaything today than 40 years ago. While the average boomer girl had one, maybe two, Barbies, little girls now are likely to have at least 20.
"My niece is 4 and she has at least 30," Overdorf said.
Copyright 2018 The Associated Press. All rights reserved. This material may not be published, broadcast, rewritten or redistributed. We strive to uphold our values for every story published.