If being a just folks is at all relevant to being a folksinger, the Freedy Johnston's earning his cred. Driving himself alone from town to town, hauling and setting up his own equipment, then hanging out among the Bottleneck's scattered, early arrivers while fretting the late arrival of the hired soundman, Johnston is no pampered rock star.
Before a sadly small Friday night crowd, half-populated by old Lawrence chums and friends and family that made the long trek from his hometown, Kinsley, Kansas. Johnston performed for over two hours. Working without a prearranged set list, Johnston responded to requests, playing songs from all six of his albums and interspersed his originals with well-chosen cover songs.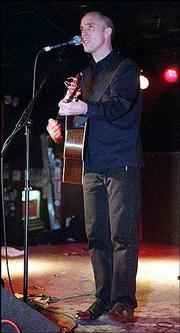 Opening with the obligatory "Wichita Lineman," then stuck with original material for some time, performing "Cold Again," "Emily," "Until The Sun Comes Back Again" along the way to the first cover he's recorded for an album release, Edison Lighthouse's seventies' trash-pop gem "Love Grows (Where My Rosemary Goes)."
While touring without his band is entirely an economic, rather than aesthetic choice, Johnston's intimate, confessional songs do not suffer in the least from the stripped-down renderings. Devoid of gloss, the bitter melancholy of songs like "This Perfect World" came across like barely closed wounds. And the quiet, acoustic renderings of the cover songs gave the audience a glimpse at the wellspring of Johnston's musical inspiration.
Johnston performed Elton John's "Rocket Man," Paul Williams' "Rainy Days and Mondays," Cole Porter's "Night and Day," and Todd Rundgren's "I Saw The Light" with a light yet respectful touch.
Following "Rainy Days and Mondays," Johnston invited high school classmate Jeff Atwood, now a physician, to join him onstage for the first song they wrote together, the wry "Sparky The Heroic Dog" which included the deathless prosery "yet we love you still, yet."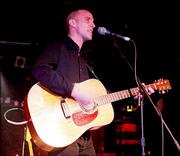 Favorites like "Bad Reputation," "Delores," and the encore, "The Lucky One" were delivered with faux reluctance in response to heartfelt pleas from the die-hard fans in attendance.
Thanks to the presence of his Kinsley cohort, the sparse attendance was less relevant than the feeling of being at a friendly gathering in a small-town fraternal lodge.
Copyright 2018 The Lawrence Journal-World. All rights reserved. This material may not be published, broadcast, rewritten or redistributed. We strive to uphold our values for every story published.