There are some high school soccer players who double as kickers for football teams. No one on Lawrence High's boys soccer team ever should think about doing such a thing.
The Lions (6-10) booted three balls off the metal posts and crossbar in their 2-0 loss to Olathe North during Senior Night on Thursday at the Youth Sports Inc. fields.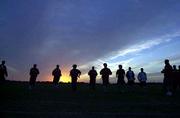 LHS also missed eight other legitimate goal-scoring opportunities. But despite all that, coach Keith Nelson was not down on his team.
"Except for the first 15 minutes we outplayed them," he said. "I have no problem with us losing a game like this. We played well against a very, very good team."
The Eagles scored their first goal on a penalty kick less than 10 minutes into the game. One of Lawrence's defenders tripped Garrett Stahl when he was inside the goal box.
"It was a good call," Nelson said. "Somebody in the box was unmarked and our defender made a decision to foul him or give him a clear shot on goal. He chose to foul.
"It's something that should not have happened, though. I don't know if it was because of Senior Night or what, but we were a little lackadaisical at the beginning."
Eleven minutes after Olathe North scored its first goal, Gladstone Tucker knocked in its second. Tucker took the ball down the left wing and bounced the ball off his foot before kicking it past Lawrence sophomore goalkeeper Sean Hargis.
LHS forward Jamie Peterson, who bounced two balls off the Eagles' goal, said it was discouraging to have so many shots on goal with nothing to show for it on the scoreboard.
"We work hard, we put the ball in play and then we go down and it hits the post," Peterson said. "What can you do about that? All I can say is that at least that shows our offense was able to do something."
Lawrence controlled the ball for the entire second half, it had eight shots on goal and rarely allowed the ball past the midfield mark.
"We dominated them in the second half," Nelson said. "If some of our shots went in we might have won 6-2, but they didn't. We played two good teams this week and lost both games. I'd rather lose and have my team focused for our next game then win and have them be lackadaisical."
Nelson is stressing Lawrence's next game because it will be the first of the postseason. He said he thinks the Lions likely will be the No. 7 seed and would meet No. 2 Topeka Washburn Rural.
"We're fine with that," Nelson said. "Last year we were a No. 7 and we upset the No. 2 seed. We can do it again."
Olathe North 2, Lawrence 0
Olathe North 2 0 2
Lawrence 0 0 0
First half scoring Olathe North: Garret Stahl penalty kick (31:23), Gladstone Tucker (20:03).
Shutout: Olathe North goalkeeper Garrett Brunsman.
Copyright 2017 The Lawrence Journal-World. All rights reserved. This material may not be published, broadcast, rewritten or redistributed. We strive to uphold our values for every story published.