Baldwin — Crisp autumn nights and the crunching sound of fallen leaves underfoot can only mean one thing here.
It's time for the 44th annual Maple Leaf Festival.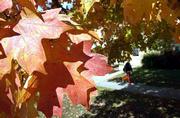 Star Novak, the festival's publicity coordinator, said the leaves of the maple trees are in full autumnal glory. She said she heard the increased color of the leaves is because the area experienced a wetter-than-normal year.
"I can't recall ever seeing the colors that vivid," she said. "There's some trees I walk by on (Baker University) campus that I just think, 'Wow, they are so vibrant.'"
A print portraying the fall colors of some of Baldwin's maple trees will be sold at the information booth, Eighth and High streets, during the festival. Most of the proceeds earned from sales of the 16-by-20 print will go toward the Maple Leaf Festival Committee, which supports many youth activities and programs.
Besides the trees, Novak said the event's biggest draw is the more than 200 arts and crafts booths. She said people can find candles, pottery, painting, wood crafts, jewelry and about anything for sale from local and Midwest vendors. For the younger crowd, she said there are carnival rides, a petting zoo and other children's activities.
Baldwin's Maple Leaf Festival, considered one of the largest arts and crafts shows in northeast Kansas, runs from 9 a.m. to 6 p.m. Saturday and from 9 a.m. to 5 p.m. Sunday. Admission is free.
"Maple Leaf offers families a nice quality time to enjoy a slower, simpler-paced life," she said.
The annual parade starts at 11 a.m. Saturday. This year's grand marshals are the Baldwin, Palmyra and Willow Springs firefighters.
Baldwin Fire Chief Allen Craig said the firefighters are honored to serve as grand marshals, especially in light of the Sept. 11 attacks in New York and Washington, D.C.
"We're representing all the fire departments in the United States," he said. "It's just an honor to represent them down here in Kansas. It's a job that we do, and we're all proud of it."
Returning this year is "The Ballad of Black Jack," a musical that represents the turbulent pre-Civil War era in the area. The musical hasn't been performed at the festival for 15 years.
"That was a staple of the festival for many years from the 1970s to the mid-1980s. They revised the musical and brought it back," Novak said.
Performances are 7:30 p.m. today, 2 p.m. and 7:30 p.m. Saturday, and 2 p.m. Sunday at Baker's Rice Auditorium. Tickets are $7.50 for adults, $5 for students and available by calling (785) 594-4597.
Copyright 2018 The Lawrence Journal-World. All rights reserved. This material may not be published, broadcast, rewritten or redistributed. We strive to uphold our values for every story published.