Everywhere Leo Stephen Barbee goes in Lawrence, people bring up his father.
The minute he introduces himself, people say, "Oh, aren't you Pastor Barbee's son?"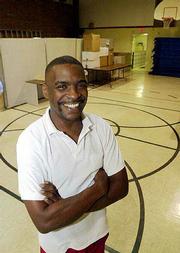 He goes to the barber shop, and the barber tells him, "You sound just like your dad."
When he picks up the phone at his parents' house and says hello, callers say, "Rev. Barbee?"
When you live in Lawrence and your father is a prominent pastor, it's hard to escape the shadow of your dad.
"Growing up, it seemed like I didn't have a name. I was 'Pastor Barbee's son' or 'Sister Anne's son," said Leo Stephen, who friends call Steve.
His parents are the Rev. Leo Barbee Jr., pastor of Victory Bible Church, 1942 Mass., and Anne Barbee.
Growing up in a church family wasn't easy, Steve Barbee said.
The six Barbee children were expected by others to be the best behaved, to know the books of the Bible before any of the other children in church.
His dad would strictly discipline the children at home, and then get up behind the pulpit and preach love.
It was hard for Barbee, as a child, to reconcile his father's dual roles as pastor and parent and separate the message from the messenger.
These days it's better.
"I love to hear my father preach and teach the word. I understand that he's a middle man for Jesus," he said. "Now that I'm older, it's easier to deal with. There's a little added pressure, but I've learned to love my heritage."
Barbee doesn't mind having a well-known clergyman as his father.
"It has its pluses, too," he said, flashing a megawatt smile just like his dad's.
It's OK, for Steve Barbee, to be the son of a preacher man.
Faith and family
But it's been a long road for Barbee to reach a point of self-acceptance and peace, with high and low points along the way.
His earlier years were filled with promise. Barbee was a standout football player at Lawrence High School, graduating in 1982.
He went on to receive All-America honors as a running back at Highland Community College, leading junior colleges in all-purpose yards in the 1983 season. In 1985, Barbee attended Peru State College in Nebraska, playing football and baseball for the school.
He returned to live in Lawrence for a couple of years, serving as an assistant football coach at what was then called Haskell Indian Junior College. The team went 6-4 in 1988.
Later that year, Barbee moved to Chicago to pursue a relationship that eventually fizzled. But he stayed in Chicago, doing a variety of jobs.
Over time, he found himself drifting into serious problems with drug addiction a state that eventually led to homelessness.
At one point, Barbee lived in the Pacific Garden Mission, a Christian-run shelter, for six months.
One day, while handing out religious tracts on the street, Barbee met a woman Marie. That meeting sparked a relationship, and 10 months later, in June 1992, they were married.
What followed was long period of stability for Barbee. He and his wife, a Chicago school teacher, had two children: Stephen Anthony, 8, and Sherell Lynn, 5.
In 1994, he took a position as chaplain at a Christian-run health care clinic, where he worked for three and a half years.
Barbee attended Moody Bible Institute in Chicago in 1995-97, taking classes in biblical studies and theology.
In 1997, he became the first African-American to serve as men's director at the Pacific Garden Mission, where he had once stayed. He held the job for two years.
After that, he worked for a social services agency in Chicago for a year and a half, assisting homeless clients.
Barbee transferred his studies from Moody Bible Institute to Trinity International University in Deerfield, Ill., where he earned a bachelor's degree in communications in 1999.
But in July 2000, Barbee and his wife separated. She left Chicago and took the couple's children with her to St. Louis.
That's when Barbee suffered a relapse with substance abuse problems and found himself homeless again, staying in shelters in Des Moines, Iowa, and Hammond, Ind.
"I was losing everything apartments, houses, jobs, relationships," he recalled.
What kept him going, more than anything, was faith and his family in Lawrence.
"I was miserable, down, depressed," Barbee said. "But I always knew I was going to come out of it."
Serving as a bridge
Even in the toughest moments, Barbee stayed in contact with his mother and father.
"I've always had an open relationship with my parents," he said. "Even when I was struggling, I'd call home to touch base and say, 'Mom, I'm OK.'
"My father didn't condone or endorse what I was doing, but he was supportive. I think that's why a lot of people (on the street) give up: they lose that family support."
Eventually calling upon a faith in God that his parents instilled in him Barbee weaned himself away from substance abuse.
"I've had my bouts and struggles," he said. "But today, I'm clean. I don't want to go back down that path again."
In July, Barbee came to Lawrence for what he thought would be a brief family visit. He's still here for now.
Barbee is living with his parents while he works out his relationships with his wife and their children, who remain in St. Louis, where Marie Barbee has another teaching position.
Since September, Barbee has worked as night monitor from 8 p.m. to 8 a.m. for people staying at the Salvation Army, 946 Vt. He's also in training to become a teaching counselor with Community Living Opportunities, which serves developmentally challenged adults in Lawrence.
His father is grateful for the changes that have taken place in Steve Barbee's life.
"God has really restored him, his life and his heart. We've seen God do things in his life," Leo Barbee said. "We never doubted that God was going to use him. He had to go through some hard knocks, but God has kept his hands on him. I'm glad he's back."
Like his father, Steve Barbee is deeply interested in helping to provide support services to homeless people in the city.
He looks at his work these days as his ministry. It's his pulpit, his church.
"I enjoy it. I just love people, meeting them where they're at and acting as a bridge to get them to the other side of the situation," Barbee said.
He believes his experiences with drug addiction and homelessness have shaped him, making his life into a teaching tool for others.
"I get my (sense of) value when I help somebody," he said. "That's where I get my greatest joy."
Copyright 2018 The Lawrence Journal-World. All rights reserved. This material may not be published, broadcast, rewritten or redistributed. We strive to uphold our values for every story published.