While Lawrence is constantly acknowledged for its reliable music scene, it's surprising how few artists from the city have been able to maintain an enduring relationship with the recording industry, and local acts get signed and dropped in nearly equal quantities. Those who find a way to make it beyond their sophomore album are a rare commodity indeed.
Now touring on the strength of his seventh studio record, former Lawrence landmark Freedy Johnston appears to be the exception to that familiar pattern.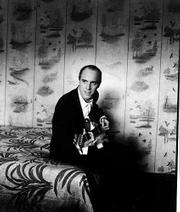 A native of tiny Kinsley, Kan., Johnston moved to Lawrence after high school in 1980 to begin life as a KU student. While his Jayhawk studies only lasted a semester, the city's burgeoning music scene appealed to the songwriter, and he began a lengthy stint honing his soaring, distinctive voice and considerable lyrical skills in the bars and coffee shops around town.
In 1985, he packed his sparse belongings and rode a bus to New York City. Three albums with the indie label Bar None earned him enough of a reputation to make the jump to a major, leading to four critically praised releases on Elektra. His 1994 debut for the label, "This Perfect World," led Rolling Stone to name him songwriter of the year, and it began a collaboration with big-name producers such as Butch Vig, Danny Kortchmar and T-Bone Burnett. The elbow-rubbing also opened doors for work on soundtracks, leading Johnston to score the bawdy Farrelly brothers comedy "Kingpin."
With the August release of "Right Between the Promises," Johnston proves that his skills are continuing to expand. From the ethereal ballad "That's Alright With Me" to the odd-timed, swampy rocker "Back to My Machine," the songwriter manages to craft catchy, accessible tunes that take on an added dimension because of an unusual singing style that sounds both breathy and piercing.
The album's version of the 1970 hit "Love Grows" by Edison Lighthouse marks Johnston's first experience with releasing a single he didn't write. It is actually one of many tunes that he worked up as part of The Know-It-All Boyfriends. This Madison, Wis., ensemble features Johnston on guitar and vocals, alongside such notables as Butch Vig and Duke Erikson from the group Garbage, performing many of the "Camaro classics" they grew up listening to in high school.
Don't look for the Boyfriends to be coming through town any time soon, though.
"Garbage just put out another soon-to-be multiplatinum record, and they're touring with U2," Johnston relates during a stop at a friend's house in Chicago. "They're going to be gone for awhile."
Luckily, Johnston doesn't need a band. Currently playing a solo acoustic tour that will bring him back to Lawrence for his first date in nearly five years, the veteran storyteller proves that you can go home again.
Q: What are the advantages of playing live without a band?
A: "I drive myself, so nobody has to listen to me and I don't have to listen to anybody else all day ... I've also had to concentrate more on my playing and keeping things going onstage when nobody else is there basically just maintaining some kind of patter so that you don't lose their attention. It's kind of like talking to a kid: keep talking. On the musical end, I've learned that if you're onstage solo, you've got to get down, because there's not a group of people to feed off. The energy has to all come from you. That doesn't mean screaming or playing loudly even, it just means getting into it."
"Solo shows can be just as good. Basically what I do is I imagine there's a band onstage with me some nights. It's just one of those exercises that helps me. I feel that I'm not so alone. People who come to the shows want to see you enjoy yourself I realize that now after all these years. They don't want to see you being crabby and whining. They want to see you just putting the music out, because they've got enough to worry about."
Q: Your old Bar None Records bio mentions you had "one semester of school and six years of restaurant work in Lawrence." Can you tell me a little about those days?
A: "I worked first at the (Hashinger Hall) dorm in the cafeteria. You know what it's like to be 21 and not want to do anything except play guitar? Restaurant work appeals to that person. I worked at the Cornucopia restaurant for many years. Then that closed and I started at the Lawrence Country Club.
It was great. It was like working with a family. I have fond memories of those jobs.
"I came of age in Lawrence. Everyone has their hallowed ground. When I got out of high school, I was kind of behind all the suburban Johnson County kids as far as cultural developments. I came from Kinsley, Kan., and there were all kinds of things like black and white foreign films that I'd never seen. So I had some catching up to do. (Lawrence) is my home in many ways."
Q: Would you have been able to land a record deal if you hadn't moved to New York?
A: "Sure. You can do that. But I think that it helped. That's just obvious. Proximity is important. Like, to get somebody to buy your screenplay, it's probably best to go to L.A. Frankly, to get a record deal, it's probably best to go to L.A. I didn't realize that until later. But I had this dream to move to New York. It was really depressing for a long time. I don't know why I kept at it. But I guess I'm glad I did. When I arrived in town, I didn't even have a guitar. I'd pawned it at the Lawrence Pawn Shop."
"I came to New York with just a suitcase. It seems so hokey now. But I arrived at the Port Authority bus station with a suitcase and went to my friend Christine's house who I'd met at Hashinger and stayed on her couch for a couple months until I got my own place."
Q: How would your career have differed if you'd provided the music to "There's Something About Mary" instead of "Kingpin?"
A: "That's hard to say, but 'Kingpin' has helped me a lot. The movie died at the box office, but it's one of the biggest rentals. Everybody's seen it. It's funny because it says 'Score by Freedy Johnston.' They called me in late, and they really had everything done, they just needed a few incidental bits. Most of the music from the film is pop songs. They didn't need much. They just liked my songs. It was really a great honor. I'd never done anything like that before, and that kind of stuff is coming in the future as well. I know in five years you're going to be talking to me and say, 'Wow, Freedy, it's amazing how late in your career things just totally skyrocketed.' That's what's going to happen. I'm in it for the long haul. I work hard, and I'm getting better at what I'm doing."
Q: Your new single "Love Grows" is a cover of another artist's song. What's the best cover version you've heard of one of YOUR songs?
A: "There aren't that many. The only thing I've heard was the 'Lucky One' cover by Mary Lou Lord. That's it except for the Muzak versions of 'Evie's Tears' and 'Bad Reputation.' The reason I'm on Muzak is this guy was a fan of 'This Perfect World' who worked at Muzak in Seattle, and he got four of my songs into the system which is unheard of. I don't really mind in a way; Muzak doesn't bug me as much as it used to when I was a kid. It's not that big of an issue. But the funny issue is that it happened at all. There's no reason it should have. I didn't sell that many records. 'Bad Reputation' was kind of a single, but these other songs were never on the radio, ever. Now, I hear them all the time, everywhere across this nation. I was in Staples in Rochester, NY, buying paper and printer cartridges, and my song 'Dolores' came on. There's no reason that should happen."
Q: Has working with such big-name producers on your records ever compromised your own personal vision of what the albums should sound like?
A: "It's been the opposite. I've been privileged to work with those people, so I've learned more than I would have if I'd just been monkeying around in the studio myself without any guidance. There's a reason those guys are who they are and are so well known. I've learned a great deal from T-Bone (Burnett) in the short time I've worked with him. That was worth the price of admission there. And Butch (Vig) has taught me a great deal, just about being a musician. T-Bone taught me a lot about being an artist. I'm not a very self-confident individualist. I'm just sort of a songwriter. But ideally, the kind of job I do is better served by that attitude."
Q: What's the best advice you can give about playing music?
A: "The advice that I pass along is generally technical stuff. For a musician, one of the most basic bits of advice for a singer-songwriter, solo person or anybody is to practice with a metronome. I know it sounds really dry and mundane, but that is so key. It's a daily exercise. It's like therapy: Your body needs to hear the metronome ... It shows you how odd one's sense of time is, and why there are such things as good nights and bad nights, and vibes and grooves.
"As for more (philosophical) stuff, I don't know that many singer-songwriters who've been doing it for two or three years that I'd be (musically) into. You got to learn. I wouldn't have thought that in the past, but I see it know.
"I see how much there is to learn, and how long it takes to learn that. How long it takes to learn what not to play, and how to be more intense in your performance while being quieter. It's almost like a martial art."
Copyright 2018 The Lawrence Journal-World. All rights reserved. This material may not be published, broadcast, rewritten or redistributed. We strive to uphold our values for every story published.