If success is in the numbers, the folks at Schaake Pumpkin Patch are in for plenty of treats this Halloween season.
At least that's the way Cody DeFazio figures it, having surveyed the 20-acre patch of jack-o'-lanterns to be.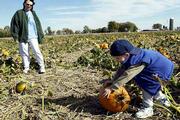 "All the ones we found, there were round ones and there were ones with flat sides," the 7-year-old said Thursday, hauling his 15-pound gourd to the scales. "There's quite a few out there."
How many?
"Probably 103,699," he said.
That would be a good harvest, but the owners of the 26-year-old pumpkin patch aren't ready to count their successes just yet.
Janet Schaake, co-owner of the pick-your-own patch three miles east of downtown at 1791 E. 1500 Road, said this year's crop was shaping up to be 60 percent better than last year's.
Persistent hot, dry weather had sapped the life out of last year's pumpkins, forcing the patch to close 10 days before Halloween. It marked the first time Schaake's family business had shut down before Halloween.
This time, Schaake expects to have plenty of products available each day through 7 p.m. Oct. 31.
"Mother Nature just dealt us a better deal this time," Schaake said. "She did a better job with the moisture. I have no idea how many pumpkins are out there, but I know there's a lot."
The patch, which typically attracts weekday visits from about 5,000 schoolchildren each fall, this year is selling more ancillary products than ever, Schaake said.
Sales of hay bales, corn stalks and Indian corn are about 15 percent ahead of an average year's pace, she said. It's a side of the business that has been increasing every year.
But in the wake of the Sept. 11 terrorist attacks, she acknowledged, people may be focusing more on making their homes comfortable and spending quality time with family members.
"A lot of people never get into the agricultural parts of life," Schaake said. "This shows them the real thing."
It's also plenty busy for the Schaake family. Schaake's husband, Larry Schaake, recently wrapped up the farm's harvest of 350 acres of corn. He intends to start cutting the 350 acres of soybeans this afternoon.
And while grain prices continue to suffer, the Schaakes managed to bump their pumpkin prices up by 2 cents a pound this season.
"With the whole economy, everything's slow right now," she said. "But for 30 days, you have a little window where we can do pretty well."
Copyright 2018 The Lawrence Journal-World. All rights reserved. This material may not be published, broadcast, rewritten or redistributed. We strive to uphold our values for every story published.