Seattle — Playing with the poise and patience that have become staples of their October success, the New York Yankees were charged up from the get-go.
That meant trouble for Seattle.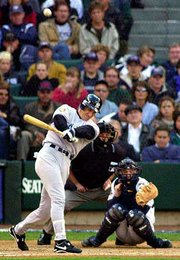 Andy Pettitte pitched eight sharp innings, Paul O'Neill homered and the three-time defending World Series winners opened the AL championship series with a 4-2 victory Wednesday that was not nearly as close as the scoreboard showed.
"We're used to playing big games," O'Neill said. "We've got jitters and nerves like everybody else. But when we take the field, we've been successful."
The Mariners scored a run off Mariano Rivera in the ninth, bringing up Edgar Martinez as the tying run. But Martinez broke his bat on a game-ending groundout.
The Yankees, meanwhile, were ready from the first pitch even before it.
While the Mariners were still in the dugout preparing to take the field, Chuck Knoblauch and Derek Jeter already had sprung to the on-deck circle. Swinging their bats and studying Seattle starter Aaron Sele, they even nodded at each other, confident.
Knoblauch singled on the first pitch and Jeter followed with a long fly that had the sellout crowd of 47,644 at Safeco Field groaning. The ball was caught, but it was clear the Yankees were on their way.
Taking advantage of plate umpire Ed Montague's tight strike zone, the Yankees worked the count all afternoon. The slumping O'Neill hit a two-run homer in the fourth inning on Sele's 66th pitch.
Jeter didn't do much, other than hit the dirt on a high fastball from Sele, but the Yankees didn't need him a lot on this day.
Especially with Pettitte holding Seattle hitless until the fifth inning and allowing only three hits, and Rivera finishing off the ninth for another postseason save.
"Obviously, when you've had success in the postseason, you can always lean on it," Pettitte said.
Too tired from three cross-country trips in five days? Nope. Too drained from their stirring comeback over Oakland in the first round of the playoffs? Not a chance.
O'Neill went to dinner with Pettitte on Tuesday night, and liked what he saw.
"He was ready to go," O'Neill said. "You just knew from the first pitch if he makes his pitches, we're going to win."
Instead, it was the Mariners the team that tied a major league record with 116 victories and then saved its season with two wins against Cleveland who appeared back on their heels.
Sure-handed Ichiro Suzuki stumbled fielding a ball in right field, third baseman David Bell slipped trying to chase down Knoblauch's RBI single and manager Lou Piniella shouted at three different umpires.
Suzuki, coming off his 12-for-20 performance against the Indians in the first round, went 1-for-4 with a ninth-inning double and scored on a pair of wild pitches by Rivera.
Sele lost a playoff game to the Yankees for the fourth straight year. He's 0-5 overall in the postseason, including a defeat in last year's ALCS.
Now, the Mariners must hope Freddy Garcia can get them even in the best-of-seven series when he pitches against Mike Mussina in Game 2 tonight.
"They've got good starting pitching, and we know that," Piniella said. "They spent quite a bit of money on it, and it shows."
Garcia will be working on three days' rest for the second time in his career on June 1, 1999, he gave up six runs in 5 1/3 innings against Baltimore.
With security tight at Safeco and a moment of silence to honor the victims of the Sept. 11 terrorist attacks, Piniella and Yankees manager Joe Torre exchanged an extra handshake after the pregame introductions.
Then, the Yankees went to work, as always.
"I put a lot of weight on postseason experience. I think it eliminates the unknown," Torre said.
Jorge Posada drew a leadoff walk in the second and Alfonso Soriano blooped a two-out single that Suzuki fell trying to handle.
Knoblauch pulled a hard grounder that Bell backhanded, deflecting the ball into foul territory. Bell struggled to keep his footing as he gave chase and third-base coach Willie Randolph never hesitated, waving home the slow-footed Posada. The run scored easily and Knoblauch, whom Seattle talked about trading for in midseason, finished with three hits.
Posada led off the fourth with a drive into the corner and brazenly challenged Suzuki's rocket arm. The throw beat Posada, yet he managed to slide around shortstop Carlos Guillen's tag.
Guillen, who missed the Cleveland series because of tuberculosis, received a standing ovation when he batted in the first inning. Perhaps his timing was a bit off, however, as his tag was slow.
O'Neill, only 1-for-11 and benched twice in the opening round, followed with a line drive into the right-field seats for a 3-0 lead.
That was plenty for Pettitte, who got the Mariners to chase his breaking balls. He permitted just one runner until Martinez singled to start the fifth.
Mike Cameron followed with a double, but Pettitte limited the damage by holding Seattle to John Olerud's RBI groundout and striking out Jay Buhner and Dan Wilson.
Soriano opened the ninth with a shot off the left-field scoreboard. But the rookie stood and admired the drive, thinking it was a home run, and was held to a single. It was the only un-Yankeelike play of the day and it did not cost them as he later scored on David Justice's single.
Notes: Pettitte improved to 9-5 lifetime in the postseason. ... Pettitte was 0-2 vs. the Mariners this year, part of the reason Seattle won the season series 6-3. ... Mark McLemore will start at shortstop instead of Guillen in Game 2.
Copyright 2018 The Associated Press. All rights reserved. This material may not be published, broadcast, rewritten or redistributed. We strive to uphold our values for every story published.