Felicia Reilly of Palm Harbor, Fla., understands the value of having kids know their way around the kitchen.
Her children, Kevin, 15, Steven, 13, and Colleen, 10, cook dinner for the family every now and then and can fend for themselves at morning, noon and night meals if need be. The trio has been known to satisfy a sweet tooth by whipping up a cake at 10 p.m. on a Saturday. Grilled steaks a la big brother graced the table on Father's Day.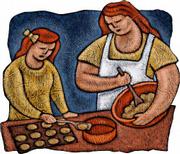 The short-range payoff for the Reilly parents is that the Reilly children bring a little relief from kitchen duties. It's the long-term benefits, however, that nutrition experts would applaud. The ability to cook lessens dependency on fast food and convenience products, neither of which build strong bodies. With obesity and Type II diabetes rates rising among the under-18 set because of poor eating habits, it appears cooking lessons are in order.
Teaching cooking is not like teaching rocket science. Find age-appropriate tasks and loosen up a little. Be aware of safety issues and your child's capabilities, but try not to let your fears of injury prevent him from learning. Yes, it may take longer to get dinner on the table and, no, it won't always be (or taste) pretty. Focus on the long-term benefits and forget the shell bits crunching in the scrambled eggs.
Feeding souls
"We have to take this very seriously," said Leanne Ely, certified nutritional consultant and author of "Healthy Foods: An Irreverent Guide to Understanding Nutrition and Feeding Your Family Well" (Storey Books, 2001, $19.95). "We are feeding souls, not filling holes. It will not happen with microwaveable food; that's garbage."
Ely said that cooking is the most obvious tool to teach children about nutrition. They learn by doing, not by just sitting and listening, she said.
"By about age 8, kids can work with sharper knives as long as there is an adult there," Ely said. "If we hold the bar up high for them, they almost always hit it."
Before age 8 even as young as 4 Ely advocates teaching knife handling with a butter knife or a plastic pumpkin carver, which is sharp enough to cut a carrot.
Ely has a daughter, 11, and a son, 9, who trade off being the "kitchen helper" who assists Mom with dinner. Her son was an avowed salad hater who has come around to the green stuff now that he's the family's designated saladmaker.
She said that once picky eaters start participating in the shopping and cooking, they'll begin to sample more foods just give them the chance.
Ely said the reason kids are eating more junk food is because that is what parents are giving them.
"We don't give kids enough credit," Ely said. "We are such a hypocritical society. We say 'Eat healthy, eat healthy' and then 'Here are the Bagel Bites for after school.'"
It's never too late
Ely has mastered the kids-in-the-kitchen challenge, but what about the rest of us who have made ourselves into short-order cooks? Is it ever too late to get a child to help in the kitchen once we've trained him to be a guest at his own dining room table?
Not if you're willing to confess to your offspring that you've shortchanged him in his education, Ely said.
"I'm a big believer in the power of apology," she said. "Tell him that you should have let him be more involved (in cooking)."
An older child, Ely said, can be reasoned with. Tell her that the family's eating habits need to be improved and that learning to cook is a part of that. Set goals with your children and then work with them to make sure they are reached.
"Cooking is a skill you want them to have for life," Ely said.
Copyright 2018 The Lawrence Journal-World. All rights reserved. This material may not be published, broadcast, rewritten or redistributed. We strive to uphold our values for every story published.