St. Louis — Runner on first, nobody out, tied in the ninth inning and Mark McGwire coming up. Not too long ago, that prospect would have rattled the opposing pitcher.
In the deciding Game Five of the St. Louis Cardinals' division series, that wasn't the case. Manager Tony La Russa pulled Big Mac, in a slump basically the entire season, for rookie pinch-hitter Kerry Robinson.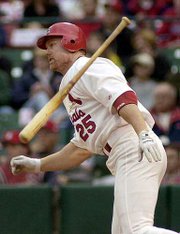 La Russa, McGwire's manager for all but one season of his Hall of Fame career, agonized over the move even though Big Mac was 1-for-11 in the series. Even though McGwire was overmatched against Curt Schilling in Game Five, striking out all three times.
"Believe me, if this guy doesn't play anymore, it would be my lowest moment as a manager, unless we had won the game," La Russa said. "My heart was pure. I think I owe that to our club. I was just trying to win a game."
Robinson put down a sacrifice bunt, but the Cardinals didn't get a run Sunday night. Arizona then scored in the bottom of the ninth for a 2-1 victory, and the Diamondbacks won the opening-round series, three games to two.
McGwire, who batted .187 and struck out every 2.5 at-bats, didn't complain.
"I work here," McGwire said. "I don't care how many years you've played in this game, or how good you've been, never second-guess what the manager does."
He continues to second-guess his own future, though. McGwire, who recently said he was "fried and embarrassed" about his performance, again hinted he might retire after the Cardinals lost Game Five.
McGwire, 38, is fifth on the career home run list and needs only 17 for 600. But he often complained he was playing on one leg this year after coming back too quickly from surgery to correct patella tendinitis in his right knee.
McGwire is signed for two more seasons at $30 million and doctors have told him it takes a full year to recover from the surgery he underwent last October. He told reporters after the loss Sunday that he doesn't play for money or numbers.
"Your body can only go so far," McGwire said. "I'll probably let you guys know through fax or e-mail."
McGwire had little to do with the second-half surge that put the Cardinals, a .500 team at the All-Star break, in the playoffs with a 93-69 record. Rookie Albert Pujols and J.D. Drew became the focal points of the offense, not Jim Edmonds and McGwire.
The Cardinals were an NL-best 54-28 at home. But they hurt themselves the final weekend of the regular season, losing two of three at Busch Stadium to the Houston Astros and losing the NL Central title and home-field advantage in the postseason.
That meant they faced the daunting prospect of getting past the Diamondbacks' big two of Schilling and Randy Johnson, and Schilling beat them twice. Pujols and Drew both disappointed at the plate in the postseason.
Copyright 2018 The Associated Press. All rights reserved. This material may not be published, broadcast, rewritten or redistributed. We strive to uphold our values for every story published.