Biologist Roger Boyd enjoys sitting on the Baker Wetlands boardwalk.
The walkway, nestled in the 573-acre wetlands south of 31st Street between Haskell Avenue and Louisiana Street, is a great place to enjoy nature, he said.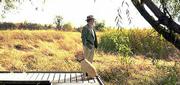 "You are basically talking about a 1-mile-square area and we have recorded 250 species of birds here," said Boyd, chair of Baker University's biology department. "There are only about 450 bird species in the entire state. I don't know of any other similar-sized area in the entire state where you are going to find any greater diversity of plants and wildlife than in the Baker Wetlands."
Haskell Indian Nations University alumna Anna Wilson uses the wetlands to get lost.
"I love this land because of the solitude," said Wilson, a spokeswoman for the Wetlands Preservation Organization. "It doesn't take long to get here from Lawrence, and it's big. You can get lost out here, and you can't do that in a park. I don't know of any other public place near Lawrence where you can do that."
Boyd and Wilson both love the wetlands, but disagree about its future. Their divided views reflect those of the larger Lawrence community.
New route, old fight
Boyd and his university are working with state transportation officials on a plan that eventually would run a six-lane portion of the South Lawrence Trafficway right through the wetlands. In exchange, the university would get ownership of more land to the west and east for new wetlands to be created by the Kansas Department of Transportation and Baker.
Wilson and her group vow to continue their long crusade to prevent any road cutting through the wetlands. It's an effort that has produced, among other things, a federal lawsuit in 1997 that halted construction on the incomplete portion of the trafficway.
Four years later, the plans are different, but state and county officials still are trying to complete the bypass project connecting the Kansas Turnpike west of Lawrence with Kansas Highway 10 east of town. The state is studying a route slightly south of the original, which would have followed 31st Street.
The new plan would get the road, along with a portion of existing 31st Street, off property owned by Haskell. But the trafficway would still cross the wetlands, this time on the alignment of 32nd Street.
New wetlands?
Boyd said he was confident he can work with the new ground to produce something that looks like wetlands. The question is whether it would function like wetlands.
"That's just all going to depend on your definition of functioning and there will probably be lots of definitions. But I should say that I don't think it will ever be as diverse as the Baker Wetlands are.
"But that's because it wouldn't have as much habitat. The new area would basically be a big, open marshy area while what we have here has more types of habitat than that. It is really comparing apples and oranges."
The plan is unacceptable to WPO members.
They say the noise, pollution and habitat loss will affect not just the northern section of the wetlands but the entire area.
"I think it would be fair to say that it would be 99 percent damaged," said Bruce Plenk, a WPO attorney who represented the group in its 1997 lawsuit. "There would be so much noise, so much light from the trafficway, so much oil, trash and litter. I think if you saw any animals it would just be because they are lost."
Supporters of the new wetlands and trafficway plan aren't convinced that would be so.
'Overplay that hand'
"My sense is that people sometimes tend to overplay that hand," said Bob Johnson, a Douglas County commissioner and supporter of the 32nd Street plan. "I think we can point to a lot of instances where alarmists in this town have said you can't do something because it will destroy the environment. The eagles on the river are probably a good example."
In the late 1980s environmentalists protested the construction of the Riverfront Mall in downtown Lawrence because they feared the project would damage bald eagle habitat along the river. But the project was modified and eagles still regularly use the area.
Wilson said Johnson's way of thinking will ensure the wetlands remain a legal battleground for years to come.
"We're just talking to closed ears, and closed ears won't get this job done," Wilson said. "We'll end back up in court and we'll go through a process that will take another 15 years."
Copyright 2018 The Lawrence Journal-World. All rights reserved. This material may not be published, broadcast, rewritten or redistributed. We strive to uphold our values for every story published.