Lubbock, Texas — Texas Tech's victory over No. 24 Kansas State is the biggest win of coach Mike Leach's career.
Tech's 38-19 victory Saturday night was the first time in five tries that Leach has beaten a ranked team since taking over at Tech at the end of the 1999 season.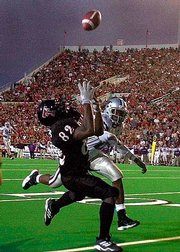 "I think we reached higher and strived higher," Leach said. "I think we got a taste of what our potential is and have to reach beyond that."
Kliff Kingsbury threw for 409 yards and four touchdowns.
"He did the things he had to do," said Kansas State coach Bill Snyder. "I thought he was great. And his receivers made some great plays."
Sophomore running back Wes Welker caught two touchdown passes, including a 60 yarder, the longest scoring play this season for Tech (3-2, 1-2 Big 12).
The outcome left Kansas State (2-3, 0-3 Big 12) winless in the Big 12. It was the Red Raiders' first victory in conference play.
Kingsbury, coming off a thumb injury, completed 32 of 47 passes for 409 yards, the most passing yardage ever given up by Kansas State. He rotated among several receivers, giving the Wildcats' secondary fits.
He also threw three interceptions.
Welker's 60-yard catch from Kingsbury gave the Red Raiders a 17-7 lead heading into halftime. A 33-yard pass from Kingsbury to wide receiver Carlos Francis set up the touchdown.
Welker was wide open after Wildcats defensive back Milton Proctor and linebacker Ben Leber bumped into each other. Welker scampered into the end zone untouched.
Kingsbury threw his first touchdown of the season to a wide receiver in the third quarter, connecting with Anton Paige on a 12-yarder for a 24-7 lead.
"Everybody did a great job refocusing" after last week's overtime loss to Kansas, Kingsbury said. "It was a great win."
Tech's defense held the Wildcats offense to 146 rushing yards. Going into the game, K-State ranked 14th nationally with 220 rushing yards per game.
"We recognize we're not a real good football team right, and we have to take it upon ourselves individually to get better," Snyder said. "That will allow us to get better collectively."
Tech defensive coordinator Greg McMackin put in two freshmen defensive tackle Clayton Harmon and linebacker Mike Smith to replace starters Robert Wyatt and Toby Shain.
McMackin also moved Kevin Curtis from strong safety to free safety and started sophomore Ryan Aycock into strong safety.
"I thought (the defense) played really well," Leach said. "They all deserve credit."
The Wildcats' first score came on their second possession when quarterback Marc Dunn, starting in place of Ell Roberson who was nursing a sore ankle, found wide receiver Brandon Young on a 47-yard pass. He outran two Tech defender after pulling in the ball.
K-State next scored near the end of the third quarter when Josh Scobey ran it in from 26 yards out but kicker Wade Waltman missed the point after to leave the Wildcats behind 24-13.
Tech's most interesting scoring play came early in the fourth quarter when Dupree Scovell fumbled a Kingsbury completion and Francis scooped it up, retreated about 15 yards before turning back upfield and to the opposite side of the field and ran it in for a touchdown.The touchdown covered 33 yards from the line of scrimmage, but Francis ran easily twice that far before making it to the end zone.
Welker's first touchdown, a 2-yarder, capped a seven-play, 67-yard drive that came near the end of the first quarter.
Copyright 2018 The Associated Press. All rights reserved. This material may not be published, broadcast, rewritten or redistributed. We strive to uphold our values for every story published.