Thanksgiving Day long has been a time of family gathering and prayer to give thanks for our blessings.
This Thanksgiving will have a more significant meaning in light of recent tragic events. People everywhere will stretch hands across the table as a show of unity.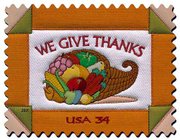 The U.S. Postal Service will honor Thanksgiving 2001 with the issuance of a 34-cent stamp depicting a cornucopia overflowing with fruits and vegetables. It will be released Friday in Dallas.
In 1863, President Lincoln issued a "Proclamation of Thanksgiving" to be celebrated the fourth Thursday of each November. This tradition has continued unabated through years of war and peace.
The design by artist Margaret Cusack of New York is a machine-appliqued needlework one showing fruits and vegetables. Inscribed above are the words "We Give Thanks."
First-day-of-issue postmarks are available by mail. You can buy the stamps at your local post office and affix the stamps to your envelopes. Address the envelopes and place them in a larger envelope addressed to: Thanksgiving Stamp, Postmaster, 401 DFW Turnpike, Dallas, TX 75260-9991. Orders must be postmarked by Nov. 19.
Irving Berlin tribute
It is ironic to note that the 2002 stamp program of the U.S. Postal Service will include a tribute to Irving Berlin, the songwriter who created "God Bless America," the song being played so often these days. The Berlin stamp has been on the USPS agenda for years.
Copyright 2018 The Associated Press. All rights reserved. This material may not be published, broadcast, rewritten or redistributed. We strive to uphold our values for every story published.