A Baldwin theater tradition is being revived. After a 15-year hiatus, "Ballad of Black Jack" is returning to the stage at the annual Maple Leaf Festival.
Shows are slated Friday through Oct. 21 in Rice Auditorium at Baker University.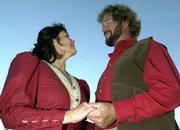 The musical a mix of love, murder, comedy, battle, dancing and singing re-creates the turbulent times of the pre-Civil War era. The play features historical figures, like John Brown and Charles Robinson, the first governor of Kansas, and such battles as the Pottawatomie Massacre and the Battle of Black Jack, in which Brown played a prominent part.
Black Jack was a small community near Baldwin.
"The town was named after the black jack trees that grew there," playwright Don Mueller said.
Mueller said the "Ballad of Black Jack" made its debut in October 1970 and was written to commemorate Baldwin's centennial. The musical was performed in Rice Auditorium through 1983. The show was revived in 1984 and in 1986, and then fell dark.
This year's musical is directed and choreographed by Carolee Vincent, Tonganoxie, who has served as choreographer for every "Ballad of Black Jack" production since 1977.
The show features a 45-member cast of all ages, with Robin Miller and John Tuchscherer as the leads.
"The challenge has been to find rehearsal space and working with (the cast's) schedules to find times to (rehearse)," Vincent said.
Songs have been cut from the show to make it 2 1/2 hours. Mueller, who directed all of the past productions, is serving as music director.
Only one costume that of John Brown survived the hiatus. Costumes are being constructed by Linda Ballinger, who did the clothing for Lawrence Community Theatre's production of "The Taffetas." Set construction and lighting is by Mark Kirk.
In addition to the Maple Leaf Festival show, "Ballad of Black Jack" will be presented Thursday to Baldwin children in grades 5-7.
Copyright 2018 The Lawrence Journal-World. All rights reserved. This material may not be published, broadcast, rewritten or redistributed. We strive to uphold our values for every story published.