With the approach of dark-after-dinner days, we are wise to take advantage of these few weeks of relatively mild weather to get the garden ready for winter putting the beds to bed, so to speak. Over the next few weekends, even as you delight in the very last rose of summer and enjoy the colorful mums, take time to give the garden a thorough cleanup.
Without a doubt, our gardens collect "stuff," some of it unwanted. A cleanup of the debris that has gathered in the garden sends it into winter in good health and gives it a better chance to wake up refreshed and full of energy in the spring.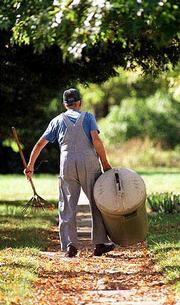 Cleaning and cutting
Remove fallen tree twigs. Rake up leaves and the unsightly leafy remains in the perennial beds, such as from daylilies and hostas.
Most people cut back the leaves of the bearded iris in the fall to a height of 6 inches to 8 inches. This isn't necessary because the leaves will wither on their own.
However, by this time the sword-shaped leaves usually have flopped over, giving the garden an unkempt look. Trimming them makes the garden look tidier.
Ornamental grasses, on the other hand, are often left uncut till spring.
If you wish, take cuttings of your favorite plants and grow them indoors over the next several months.
For example, you can snip off a few geranium stems, pot them and start new plants. Under the right conditions, you will have lush plants for the garden by spring. Or collect seeds from your favorite flowers and germinate them in late winter.
Once frost has claimed flowering annuals, pluck them from the garden and toss them into the compost heap along with leaves and other garden material. The soil that clings to roots will benefit the composting mixture.
Avoid adding diseased plants, such as rose leaves with black spot, to the compost pile.
Weeding and mulching
Some plants such as wildflowers, shrubs and newly planted trees need winter protection for their roots against exposure as the soil heaves with the winter freezes and thaws.
Mulching for the winter freezes should wait until after the ground has frozen. This discourages pests from nesting in the mulch when the soil is still warm and nibbling away at the plants.
Be sure to pull out any weeds before mulching. You will find that doing so saves you plenty of time in the spring when you are far busier in the garden than you are now.
Of course, weeding everywhere in the garden continues right up until frost. Weeding conscientiously now reduces the opportunity for weeds to set their seeds, making spring weeding more manageable.
Hauling and hiding
Remember to collect the nonplant elements in the garden. Haul in hanging baskets, decorative containers and stepping stones that you do not want exposed to harsh winter elements. Depending on their composition, they may crack, peel or crumble with exposure to the cold.
Bring in garden sculptures, gazing balls and other artistic pieces. If they cannot be brought indoors, protect porch or patio furniture and outdoor grills with a waterproof covering or tarp.
Take a look at trellises, gates, fences and benches. Make repairs now before the ravages of winter worsen any defects.
Forgotten toys, errant balls or misplaced tools are likely lurking somewhere in the garden. Gather them and return them to their rightful places. Pick up and discard any trash that has found its way into the yard. I, for one, am still finding shards scattered about our garden from Fourth of July fireworks.
Savoring the offerings
In these precious few weeks while the weather seems ideal, we can do a lot to clean our gardens. Though not as much fun as the spring gardening chores, fall cleanup is necessary to keep the garden healthy.
And while we are hard at it, we might as well treat ourselves to the last of our garden offerings. Cut a big handful of mums and bring the bouquet in the house. Enjoy them before they, too, succumb to winter.
Carol Boncella is education coordinator at Lawrence Memorial Hospital and garden writer for the Journal-World.
Copyright 2018 The Lawrence Journal-World. All rights reserved. This material may not be published, broadcast, rewritten or redistributed. We strive to uphold our values for every story published.