For many people, fighting the flu means rolling up their sleeves. Studies show vaccinations are 70 percent to 90 percent effective in preventing the flu.
Influenza is a viral infection of the respiratory tract that is spread from person to person by breathing infected droplets in the air. The virus normally creeps into bodies between November and April. Common symptoms include fever, headache, muscle aches and weakness.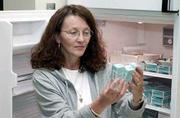 While there is no shortage of vaccinations this year, distribution is still controlled. The Lawrence-Douglas County Health Department will receive two shipments.
Barbara Schnitker, director of nurses at the health department, said fewer companies are making more of the vaccination.
"The production capacity is about what it was a couple of years ago, but there will be some distribution delays in terms of getting it out," she said.
At least 20 percent of the health department's 7,000-dose order is guaranteed to arrive by Oct. 22. The remainder will be shipped in late October or early November.
"We would like for people to be patient, because it's so important for the people at higher risk to get first priority," she said. "There will be vaccine in sufficient supply to do the rest of the population when we move into November and a bit later."
Those who are eligible to receive immunizations first are people over the age of 65, younger people with chronic health conditions and health-care professionals who work closely with these high-risk individuals.
Schnitker said October and November are prime months to get flu and pneumonia shots.
"This year, we're also planning on having the pneumonia shots available at the same locations as the flu shots," she said.
Pneumonia is an inflammation of the lungs caused by an infection, which affects one about 1 out of 100 people each year. In some cases, particularly with senior citizens, pneumonia may follow influenza.
"The flu and pneumonia together are the sixth-leading cause of death in America," she said. "That's pretty significant."
Schnitker also wants to dispel a common myth associated with the flu shot. The vaccination does not cause the virus, she said.
"It's not possible to get the flu from the flu shot, but there are some minor side effects that one might have, such as soreness, a low temperature and feeling achy," she said. "I think some people who experience the side effects mistakenly think it's the flu and it's really not."
Copyright 2018 The Lawrence Journal-World. All rights reserved. This material may not be published, broadcast, rewritten or redistributed. We strive to uphold our values for every story published.