Anthrax. Bioterror.
Both have many Kansans wondering and fretting.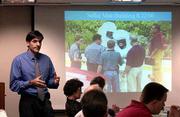 The Florida anthrax scare kept John Lupo busy this week answering telephone calls to the Kansas Department of Health and Environment.
One call was from a woman worried about a package simply because it had a Florida postmark.
"She called up and asked if she could open the package just because it came from Florida," said Lupo, a KDHE epidemiologist and biological terrorism planner.
Thursday, Lupo talked to the Douglas County Emergency Management Board of Directors about bioterrorism and Kansas' ability to handle such emergencies.
"It's not something we should lose any sleep over," he said.
But Lawrence Police Chief Ron Olin, who serves on the International Association of Police Chiefs' terrorism committee, told the board Lawrence shouldn't think it is immune from a terrorist attack.
The reasons, Olin said, involved potential targets, including several research programs at Kansas University, in areas such as aeronautics and petroleum, and because of KU's large number of foreign students.
Although Lupo doesn't think Kansans should panic about the recent anthrax concerns in Florida, he described bioterrorism as "a simple way to cause a lot of damage without spending a lot of money."
The difficulty for bioterrorists trying to use anthrax is getting enough of it airborne to make many people sick, Lupo said.
In addition to anthrax, other threats could come from diseases such as smallpox or cholera, he said.
In 1999, Kansas received a $750,000, three-year grant to improve its chemical and biological emergency response. Lupo said he expected the grant would be extended.
The money pays for Lupo's job and the development of a state bioterrorism response plan. It also allowed for the strengthening of tracking public health information.
As a result, the state is part of a nationwide computer communication system that allows Kansas officials to share and receive information about disease outbreaks, Lupo said. And officials from various agencies in Kansas serve on a terrorism response group, he said.
The state also has used the grant to pay for distribution of posters to hospitals explaining how to report unusual events. KDHE also established a 24-hour emergency toll-free report line, (877) 427-7317, and an epidemiologist is on call.
Kansas is as prepared as it can be for a bioterrorism emergency, Lupo said. KDHE has an electronic disease-reporting system, which collects information sent in by computer from doctors, hospitals and health agencies, he said.
The federal Center for Disease Control and Prevention has established eight locations in the country for stockpiling medical supplies to respond to bioterrorism emergencies, Lupo said.
A big problem Kansas and Lawrence may have in a bioterrorism attack is handling large numbers of panic-stricken people seeking inoculations, said Lupo and Kay Kent, director of the Lawrence-Douglas County Health Department, an Emergency Management board member.
The Health Department has a good working relationship with Lawrence Memorial Hospital and others in the health care field, Kent said.
"The new part of this is working with the law enforcement agencies," Kent said.
Copyright 2018 The Lawrence Journal-World. All rights reserved. This material may not be published, broadcast, rewritten or redistributed. We strive to uphold our values for every story published.