By now Margaret Cho should be a clichjust another sad footnote in entertainment history.
The first Asian American to have her own TV series, "All-American Girl," Cho went into an emotional tailspin soon after the program was canceled in 1996 after one year on the air. The reasons for her depression included her treatment by network executives, who hired a Korean advisor to help the Korean actress seem more ethnic, while also insisting the full-figured Cho lose weight to appear more attractive.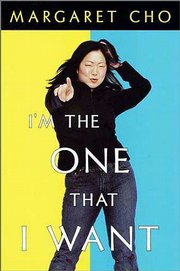 In the end, Cho went along with everything, enduring the race issue and losing 30 pounds in a two-week period to please her bosses, even though that resulted in kidney failure and hospitalization of the then 26-year-old actress. When the show got canned anyway, Cho went into a two-year freefall of drug and alcohol abuse. Then one day she woke up and decided to turn it all around.
"I think it was more about growing up," Cho says during a phone interview from her California home. "I was tired of the self-destructive pattern I was in, and I didn't want to live that way anymore.'
Cho is appearing in "Notorious C.H.O.," her one-woman show, Friday at the Midland Theatre. She's also taking the time to promote her recent autobiography, "I'm the One That I Want."
Getting clean and sober might be enough of a challenge for most people, but Cho also wanted her career back. Already a 10-year veteran of comedy clubs and TV (she started performing as a 16-year-old), She honed her act into a razor-sharp series of bits about all the painful things most people try to avoid. No subject seemed off limits to Cho, who let audiences in on her drug use, promiscuity and what she really thinks about TV during her not-for-children, NC-17 show. If Richard Pryor and Rosanne Barr had a love child she would probably act like Cho. But like most good observational humorists, her jokes also carry a message.
What: "Notorious C.H.O." starring Margaret ChoWhen: 8 p.m. FridayWhere: Midland Theatre, Kansas City, Mo.Ticket information: (816) 471-8600
"I think it's a great way to deal with issues that are painful. But there are still some things I won't talk about," she confides.
That's surprising, since she once did a gay joke about Kermit the Frog, but Cho, it turns out, is full of surprises during the interview. Though she's brash and profane in concert, she's decidedly mild-mannered, soft-spoken and thoughtful over the phone. She uses no profanity, and is extremely polite while discussing all the hotbed topics her act also covers.
So are there any subjects that Cho won't discuss?
"I think there are things in life that are off-limits. Like the people I'm close to. I don't like to talk about my friends. I'm in a serious relationship now, and I like to keep it private," she says.
That may seem normal, until you realize this is the same woman who practically screams her sexual preferences during her comedy routine. ("Bisexuals have parades, gays have parades, I'm just slutty, where's my parade?") Cho doesn't mind talking about sex, but talking about love is taboo.
Notorious exposure
Cho's "I'm the One That I Want," was a big hit as a one-woman show off-Broadway. She dealt more with racism, her upbringing (her grandpa was a minister, her father wrote Korean joke books), her depression and addictions. Baring her soul not only got her career back, it made her an icon and a spokesman for a variety of groups.
Her book carries the same title, but it's not recycled show material. It's her autobiography, a hint that at 32 years old, she's already lived a lifetime.
"I wrote it around my schedule," she says. "I'd write in between shows. But it still took about two years to complete."
During that time she filmed her one-woman show, "I'm the One That I Want," before a San Francisco crowd. The comedy, just like her idol Pryor's work, is a scathingly raw concert film. It also won rave reviews. It was released this week on video and DVD.
After sobriety and a career comeback, Cho found herself with a new addiction: sex. She went through a decidedly "do-what-I-want" stage, calling herself bisexual and pansexual. Her outspokenness led to her taking the lead among gay rights activists, and got her on the cover of numerous gay publications.
She has noticed a big turnaround during the past five years concerning media portrayals of homosexuality, especially on TV, but also rues the lack of progress on racial topics.
"I think there are more gays on TV because there is so much work and lobbying done behind the cameras," Cho says. "But I don't see much change with race. There is not a lot happening. There are no significant leads. I don't know what it will take to push minority characters into a series. Right now it doesn't exist."
Not surprisingly, her new stage show "Notorious C.H.O." deals explicitly with sex and her own experimentation. But dropping another bomb during the interview, Cho presents herself has a happy heterosexual. Mostly.
"I'm in a serious long-term relationship with a man, that's as straight as can be," she says. "But I still don't like to put a label on myself."
Cho also insists that even she's still not comfortable with sexuality, despite how much talking she does about it.
"The show is about the politics of women's bodies and how they are viewed, and how even women view their own bodies," Cho says. "It's rooted in body issues. It's something we all deal with. I'm more comfortable with sex than most people, but I still have issues. I think that since I talk about it onstage, that helps me be more open about my feelings."
Copyright 2018 The Lawrence Journal-World. All rights reserved. This material may not be published, broadcast, rewritten or redistributed. We strive to uphold our values for every story published.