No one ever said singing the novelty song of the year was easy. Just ask Dryden Mitchell, who manned the microphone for Alien Ant Farm's postmodern cover of Michael Jackson's "Smooth Criminal," only to find that he can't leave the house anymore.
"Kids a lot of times, it's sad to say, just watch TV," he states, munching on a chicken burrito backstage at a San Francisco club. "Kids out here will point at me and go, 'Oh, it's the "Smooth Criminal" guy,' or 'It's the "Annie are you OK" guy.'"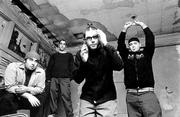 "Criminal," a sleeper hit from the group's second album, "ANThology," broke big more than six months after hitting record store shelves last April. Initially the disc collected a fair amount of dust, but then started selling by the truckload after "Criminal" was used in a key scene from the "American Pie" sequel involving Super glue. Add a splashy, rapid-fire video on MTV and all the makings of a synergistic smash were in place.
"It's good; it definitely helps the band," Mitchell says. "But we're just doing our jobs and trying to do it right, like we've always kind of done. We're very happy that this is our job, and you can tell that we're performing our job well. Being musicians or being in a band happens to be our job, but it can transfer into anything. Like if we loved our work as dogcatchers, we would be good dogcatchers."
Of course, these days Mitchell probably couldn't become a dogcatcher if he tried. After having his image plastered across the TV screens of a few million TRL fans, the singer is finding it increasingly difficult to go out without getting recognized. Being the center of attention in a band that's currently living in the spotlight's glare adds another high-voltage element to an already harried situation.
"It's kind of weird," the singer shouts, trying to be heard over the loud strains of guitarist Terry Corso, who's currently belting out a sloppy a cappella rendition of ZZ Top's "Tush." "I think the equality in this band is there. There's no 'guy.' I think maybe the vision ... Kids see it differently. They see it as me or whatever, but it's not that way at all."
What: Alien Ant Farm, Pressure 4-5, DredgWhen: 9 p.m. WednesdayWhere: The Granada, 1020 Mass.Ticket information: 842-1390
For Mitchell, looking beyond the champagne wishes and caviar dreams of AAF's chart-topper is the most important step in avoiding the pitfalls of too-soon success.
"The song is already on a descend," he adds hopefully. "It's been a blessing, it's done its job for us, but it'll be cool to get past it and just see what happens afterwards."
Coconut clones
AAF (Mitchell, Corso, bassist Tye Zamora and drummer Mike Cosgrove) formed in 1995 from the ashes of several other bands in its native Riverside, Calif. Though the city's music scene paled in comparison to its famous southern neighbor, Los Angeles, the quartet was able to secure regular bookings at The Barn, Riverside's lone rock venue. Rather than hanging around town waiting for a break, the moment AAF established a local audience, the group started looking for greener pastures.
"We didn't want to overstay our welcome, even though it was our home," Mitchell says. "I hate when bands play their own city a million times. It gets really boring for your friends and everyone. So we just started networking, and meeting other bands, and trying to get as far away from our hometown as possible just to create a following in different areas."
L.A. beckoned and AAF answered the call, lugging its gear from the suburbs to the Sunset Strip every weekend, performing in rock dives with bawdy names like the Coconut Teazer. Though the band members bonded at times like these, AAF found little solidarity among its deal-seeking peers.
"It's really competitive," Mitchell says. "It's lame, too. L.A. is just kind of cheesy. It's a place where business gets done, but as far as bands coming out from L.A., it's kind of stupid. It has really not much to offer, a bunch of clones. A bunch of people move there from all over the country thinking that they're gonna get signed, and they sound like the last band that just got signed. It's terrible."
Though the quartet was able to showcase its wares for all the major and minor L.A. labels, none offered the band a contract. Interestingly, it was a band from up north that finally put AAF on the map. Vacaville's Papa Roach had just inked a deal with DreamWorks Records, and kindly passed copies of AAF's independently released debut, "Greatest Hits," to its new bosses. (The two acts had a long-standing pact that if either got signed, they would try to help the other.) Had it not been for P-Roach's support, AAF's career might well have been exterminated.
"We got turned down by every single label," Mitchell recalls. "Papa Roach was a huge influence on getting our deal another band. I'm so happy that they did that, but it makes me sad to think that we played for every single label and it just wasn't working. They didn't hear the songs or thought we had no image. And we weren't really concerned with image ... Whatever."
Nu pollution
AAF's cheekily titled, long out-of-print debut contained two songs that made it onto "ANThology" the rollicking geek metal of "Movies" and the infamous Jacko cover, which the band played at its first gig. While the quartet's sophomore effort was given the sort of big-budget production one would expect from a label like DreamWorks, Mitchell looks back on "Greatest Hits" with decided fondness.
"There was something cool about it," he enthuses. "It had a real raw sound in it, and a lot of that had to do with the fact that we didn't have a lot of time or any money. What you hear is what it is. But there was some stuff on there that I felt I had to live with, because we didn't have the time to get it absolutely the way I wanted."
Upon "ANThology's" release, AAF spent several weeks opening for Papa-Roach, a successful double-bill that immediately got both bands pegged as part of the nu breed of metal.
"Some people that don't know what they're talking about will throw us into that category," Mitchell says. "I don't know why they do because we're a young band and we're slightly heavy, that's the only thing. I don't get mad or anything, but if you listen to the record, it's more classic rock than nu metal if anything. It's just guitar, bass, drums and vocals, and it's pretty at times and angry at times. Nu metal, I don't even know what it is. To me, it's like a DJ and a bunch of (idiots) with spiky hair. Not that DJs are bad; I don't mean it like that. But sometimes you'll wonder what this DJ in this band is doing; it doesn't even serve a purpose for the music."
As "Smooth Criminal" began to make national waves, critics sharpened their knives and attacked. All four AAF members were raked over the coals for being trend-hopping wannabes, with Mitchell bearing the brunt of the barbs.
"They say we're a flash in the pan and that this is a stupid cover," he smiles. "That's cool. We were also told by labels that we were never gonna get signed and we were never gonna get on MTV or the radio. We know what we're capable of; we know that we work hard and write good music. It's not my problem if someone just listens to 'Smooth Criminal' and then decides how my whole career is gonna pan out because of that choice. Come on! It's taking it way too seriously. This is entertainment, this is music and it's fun. And I spend a lot of time trying to create it. If people are gonna decide my whole career because we did a cover song, that's stupid."
For a week or two, several groups were trying to end Mitchell's career altogether. In the wake of the recent terrorist attacks, Clear Channel Communications circulated a list to 1,000 of its stations suggesting hundreds of songs that should be temporarily banned from radio airplay, including AAF's "Smooth Criminal," which allegedly had taken on a sinister new meaning. Ironically, the original 1988 song by the world's most-famous alleged child molester never made the would-be censors' list.
"That Michael Jackson version probably doesn't even get spins anyway, nowadays," Mitchell laughs. "That whole thing was kind of weird; I think it came and went pretty quick."
A bug's life
Mitchell got a poignant call a couple months ago from an old flame who'd seen him on TV and wanted to reconnect. Interestingly, the two had just parted when the singer was scribing lyrics for "ANThology," and songs like "Flesh & Bone" and "Summer" explicitly detail the turmoil surrounding the split. Though Mitchell has no plans for a reunion, he concedes that the anguish of that time served his artistic side well.
"We're not friends and we're not enemies," he says of the ex. "But she was definitely an inspiration. That misery created a lot of positive things for me and was basically like, she was an awesome diary for me."
The next few hundred pages of Mitchell's diary will probably be filled with tales from the road.
For the foreseeable future, AAF will remain on tour, playing solo dates and preparing for a fall stint with 311. Though the success of "Criminal" has raised the stakes for "ANThology's" eventual follow-up immeasurably, Mitchell is trying not to think too hard about it.
"The record's doing really well right now, so we're gonna tour," he states evenly. "Logic pretty much says keep touring as long as the album's doing well. So we'll see. We're writing on the bus, and we'll have some cool, sophisticated music. I hope we get a little more contemporary not softer, I still want to be heavy, but more heavy with emotion if anything. And if kids want to NOT dig us because of that, then I'm totally fine with that."
Mitchell, who talks at length about the "addictive" nature of traveling, enjoys the road because it gives him the opportunity to connect with those who appreciate his music the most. Still, it can be difficult separating true fans from those merely looking for a one-hit stand.
"There's a lot of real fans that like the same songs on the record that I do, and it makes me feel good, especially when they're young kids," he says. "Sometimes I prejudge, too. Like the way I was saying about someone hears 'Smooth Criminal' and decides our career for us. Sometimes I'll see a kid and think, 'Oh, here's a kid who likes our video or whatever,' and then all the sudden they'll come out and say, 'Oh "Attitude" is my favorite song.' It makes me feel good."
Not a bad life for a guy who once spent his days answering phones for a Riverside dating service. Perhaps fronting a popular band isn't the worst thing that could happen to someone after all.
"We're not a big band," Mitchell demurs. "We're not big rock stars, but we're doing all right."
Copyright 2018 The Lawrence Journal-World. All rights reserved. This material may not be published, broadcast, rewritten or redistributed. We strive to uphold our values for every story published.