Shawnee — First lady Linda Graves and former NFL great Rosie Grier set the table, and philanthropist Lowell Milken delivered the punch line.
Social studies teacher Jada Kohlmeier calmly applauded the speakers along with 500 students and teachers at Mill Valley High School in the DeSoto school district. That was before Milken revealed the real reason for the assembly.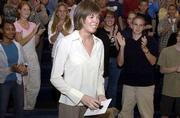 He announced Kohlmeier had won a $25,000 Milken National Educator Award for her devotion to teaching.
The 31-year-old Kansas University doctoral student froze in her seat, rising only when ushered to the microphone accompanied by a standing ovation.
"I'm shocked," she said. "I'm honored beyond words to be part of an elite group."
Foundation representatives hit the road each October to surprise outstanding educators with notification they are Milken award recipients. By the end of this month, the Milken Family Foundation will have presented $44.2 million to 1,777 educators since the program began 15 years ago. Winners can spend the money any way they choose.
This year, 120 unsuspecting educators coast to coast will share Kohlmeier's experience. Two more Kansas recipients will be honored by the end of the week.
The Lawrence school district has had three Milken winners Jeff McAdoo in 2000, Linda Herbel in 1996 and Tom Christie in 1992.
Milken, a Los Angeles businessman, said the foundation's goal was to reward, retain and attract high-caliber professionals to schools.
"Outstanding educators are the essential ingredient in student achievement," Milken said. "Each and every day, these educators provide students with the confidence and tools to succeed."
Though Kohlmeier explored other career options, she said she always knew the classroom was her place.
She grew up in Sabetha, where her father taught physical education. She earned degrees at Kansas State University and Washington University before starting her career teaching high school history and economics in Concordia.
Four years later, she was hired as a social studies teacher at DeSoto High School. When Mill Valley opened last year, she helped inaugurate the high school.
"I love being in school," she said. "I don't want to leave the classroom."
She said a KU doctorate was a means of improving her skills as a teacher not a way to land an administrative job.
Kohlmeier said it was students who made it possible for teachers to look good to the Milken foundation.
"Teaching is a fantastic profession, and I'm a teacher because of the students."
Before the presentation, Graves and Grier warmed up the crowd.
Graves, wife of Gov. Bill Graves, said Mill Valley should be lauded for establishing a tradition of academic excellence in a short time. Grier, who played football for the Los Angeles Rams as part of the "Fearsome Foursome" group of linemen, led students through a six-sentence poem.
"I am precious," he said. "I am valuable. I am unique. I am one-of-a-kind. There's nobody in the world like me. I'm a winner."
Copyright 2018 The Lawrence Journal-World. All rights reserved. This material may not be published, broadcast, rewritten or redistributed. We strive to uphold our values for every story published.