Murmansk, Russia — The battered Kursk submarine reached a Russian shipyard on Wednesday where officials will check its twin nuclear reactors, remove the bodies of its crew, and begin the delicate task of dismantling its deadly missiles.
The Kursk, which was lifted Monday from the Barents Sea floor by a Dutch consortium, was hauled by a huge barge to a dock at Roslyakovo ship repair plant near Murmansk.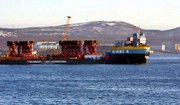 The barge slowed dramatically Wednesday as it moved along the narrow Kola Bay. When it passed the Northern Fleet's main base in Severomorsk, residents thronged the embankment and navy ships wailed their sirens.
"After anchoring, we immediately will start detailed radiation checks," said Russian Northern Fleet spokesman Vladimir Navrotsky.
The Kursk's two 190-megawatt nuclear reactors and missile arsenal have been a primary concern since the submarine sank Aug. 12, 2000, killing its entire 118-man crew.
It will take at least three days to pull the Kursk into the dock with the help of huge pontoons, then another five days to remove the barge and the pontoons and dry up the dock, Navrotsky said.
Once it is in dry dock, officials will take out remains of the crew to prevent damaging contact with the air.
Navrotsky said officials only hope to find 30-40 bodies, because remains of the others were likely blown to dust by the powerful explosions that sank the submarine.
At least 23 Kursk sailors survived the crash for hours in the stern compartments, according to letters found when divers entered the vessel last fall and recovered 12 bodies.
Officials have said the reactors were safely shut down when the disaster occurred and leaked no radiation. But the Russian government cited the risk of a radiation leak in the rich fishing grounds of the Barents Sea as a key reason for the $65 million operation to lift the Kursk.
Copyright 2018 The Associated Press. All rights reserved. This material may not be published, broadcast, rewritten or redistributed. We strive to uphold our values for every story published.