Washington — With American pilots poised to unleash "bunker-busting" bombs against the Taliban in Afghanistan, President Bush declared Wednesday that "our calling" is the eradication of terrorism around the globe. "Now is the time to draw the line in the sand against the evil ones," he said.
At the FBI, Bush unveiled a new list of 22 most-wanted terrorists, Osama bin Laden among them.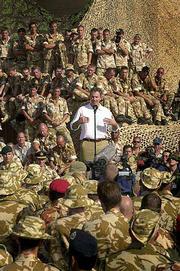 Bush praised NATO for helping patrol American skies using sophisticated early-warning surveillance planes starting Friday. "This has never happened before that NATO has come to help defend our country but it happened in this time of need and for that we're grateful," Bush said in the Rose Garden, standing next to Lord Robertson, the NATO secretary general.
"These terrorists are not 10 feet tall; they are not insuperable; they're not unvanquishable; but we are," Robertson said. "And we can win, and we certainly will win."
Pentagon officials, speaking on condition of anonymity, said war plans included the use of 5,000-pound laser-guided bombs, first used during the Persian Gulf War a decade ago to attack Iraqi underground bunkers.
Overseas, police were investigating a comment by a British-based Islamic group that Prime Minister Tony Blair has become a "legitimate target" for assassination because of Britain's participation in the raids on Afghanistan. The Al-Muhajiroun organization's leader said the remarks had been misinterpreted.
The comments came as Blair made a surprise trip to the Persian Gulf. The threat, taken seriously by the government, has caused Blair's security team to shroud details of his travel plans in secrecy.
Bush, Congress make up
The president spoke after a morning breakfast with senior congressional leaders, where he and they smoothed over a disagreement about the distribution of classified information concerning the nation's response to terrorist attacks of Sept. 11.
Leaving the White House, House Democratic Leader Dick Gephardt said the group had also agreed on a desire for quick action on economic stimulus legislation: "Get money out to people before the holiday season."
One senior administration official, speaking on condition of anonymity, said the president had told lawmakers he wants new tax rebates to go to individuals who filed tax returns this spring but did not qualify for rebates mailed out earlier this year.
Bush and Republicans have proposed that Congress cut taxes; Democrats want any measure to be a blend of government spending and tax relief.
"I think we can work through this," said Senate Minority Leader Trent Lott, R-Miss. "Right now, the Democrats are coming at this from a different direction than Republicans, but we'll work through that."
Bombing renews
Earlier, Secretary of State Colin Powell credited the military for claiming "free range" over the Afghan skies but said much more remains to be done.
The skies came alive with anti-aircraft fire over parts of Afghanistan a few hours later, apparently heralding a fourth straight night of bombing by American warplanes.
Apart from the use of bombs designed to penetrate underground bunkers used by Taliban leaders, senior defense officials said they will begin using cluster munitions bombs that dispense smaller bomblets against moving and stationary land targets such as armored vehicles and troop convoys.
These officials spoke on condition of anonymity.
At the same time, helicopter-borne special forces teams are poised for what is likely to be a prominent role in the next phase of the war.
In addition, an Army spokesman, Col. Bill Darley, said special forces "will have a significant role in all the areas they are trained to perform in."
Shining light of justice
Bush, at FBI headquarters, made only passing reference to the conventional military campaign.
Instead, flanked by Powell, Atty. Gen. John Ashcroft and other senior administration officials, he said the creation of the new most-wanted terrorist list was designed to "shine the light of justice on them."
"They must be found. They will be stopped, and they will be punished," he added.
Battling terrorist networks "is our calling. This is the calling of the United States of America, the most free nation in the world," he said.
Bin Laden has been blamed by administration officials as the mastermind behind the Sept. 11 attacks on the World Trade Center in New York and the Pentagon across the river from Washington. More than 5,000 people perished in the strikes, the worst act of terrorism ever in the United States.
He was listed as being wanted in connection with the bombings of the U.S. embassies in Kenya and Tanzania in 1998.
Others were listed as wanted for a World Trade Center bombing in 1993; the Khobar Towers bombing in Saudi Arabia in 1996 and the hijacking of a TWA flight in 1985.
Copyright 2018 The Associated Press. All rights reserved. This material may not be published, broadcast, rewritten or redistributed. We strive to uphold our values for every story published.