Washington — Democrats in the House of Representatives made history Wednesday by electing Rep. Nancy Pelosi as their No. 2 leader, making the liberal Californian the highest-ranking woman ever to serve in the House.
Pelosi beat Rep. Steny Hoyer, an amiable nine-term Democrat from Maryland, 118-95 in a closed-door, secret-ballot contest that many Democrats saw as an opportunity to showcase the party's diversity. As the party's "whip," Pelosi will be second only to Minority Leader Richard Gephardt, D-Mo., starting in January.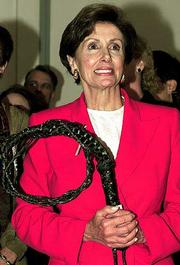 "This is big for women," Pelosi said. "It is energizing for our base. It's exciting for women. Younger women especially get what this means. Once the line of succession is broken around here, there is opportunity for everyone."
Pelosi and Hoyer are essentially traditional liberals, as is the man Pelosi will succeed, Rep. David Bonior of Michigan, who is retiring to run for governor. So the party's policy positions are not expected to change. The main import of Pelosi's election is that it puts a woman at the table when Congress' top Democrats choose issues and set strategies and it puts a woman in prime position to one day become speaker of the House, third in line to the presidency.
The only other woman to hold comparable power in Congress was former Sen. Margaret Chase Smith, a Republican from Maine. She chaired the Senate Republican Conference from 1967 to 1972, a position comparable to party whip, according to Senate associate historian Don Ritchie.
The whip's duties are to count votes and keep Democrats in line. Pelosi also will play a central role in the party's quest next year to wipe out the Republicans' tenuous hold on power in the House. If Democrats capture five more seats, they will hold a House majority, positioning Pelosi well to become majority leader.
Copyright 2018 The Lawrence Journal-World. All rights reserved. This material may not be published, broadcast, rewritten or redistributed. We strive to uphold our values for every story published.