OKLAHOMA CITY — European pilots will help protect U.S. skies for the first time starting Friday, flying five AWACS planes that are being deployed to Tinker Air Force base from a NATO base in Germany.
"They will be defending the homeland, flying combat air patrol," Air Force Capt. Steven Rolenc said. "They will be providing the capabilities that AWACS brings to the fight."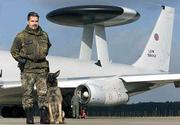 The Airborne Warning and Control Systems aircraft are used to monitor battles on the ground or threats in the air. U.S. pilots will also be involved in the air patrols.
The airplanes began arriving Tuesday from Geilenkirchen, Germany, Rolenc said.
They will be accompanied by a Boeing 707 used to transport personnel and their equipment.
President Bush said in an appearance with Lord Robertson, the NATO secretary general, that the AWACS aircraft will be flying over the continental United States by Friday.
"This has never happened before, that NATO has come to help defend our country. But it happened in this time of need, and for that, we're grateful," Bush said.
Responsibility for defense of U.S. and Canadian air space lies with the North American Aerospace Defense Command, or NORAD. The AWACS planes will bolster NORAD patrols that were instituted after the Sept. 11 terrorist attacks in New York and Washington.
NATO is assisting the United States in its war against terrorism under the organization's Article 5, which states that an attack on one member of the alliance is an attack on all. NATO has also used AWACS airplanes in Bosnia and the Balkans to assist in air operations.
"We work with NATO all the time," Rolenc said. "We exercise with them. We train with them."
Tinker's 552nd Air Control Wing, which has 28 AWACS airplanes and 3,400 military members, is participating in the U.S. military action in Afghanistan.
The exact number of people deployed was not released. Tinker's 970th Airborne Air Control Squadron and 507th Air Refueling Wing, both reserve units, were also activated.
Copyright 2018 The Associated Press. All rights reserved. This material may not be published, broadcast, rewritten or redistributed. We strive to uphold our values for every story published.