A Lawrence nurse has been named the state's top home health-care administrator.
The 142-member Kansas Home Care Assn. last month presented Pat Turmes, director of Douglas County Visiting Nurses Assn.'s clinical programs, with its 2001 Home Care Administrator of the Year Award.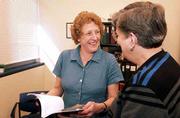 Not one to brag, Turmes said the award underscores what she's known for several years.
"Douglas County Visiting Nurses is a very special organization," she said. "We have a wonderful executive director and a wonderful governing board that lets us carry out our mission and philosophy, which is to take care of people in our community, regardless of their ability to pay."
The program is fortunate, she said, to have the financial backing of Douglas County, United Way and private donors.
Most county-run home health programs, she said, aren't as lucky.
In its home care programs, Visiting Nurses cares for about 300 people most of them elderly or disabled who, without help, would have to move to a nursing home or assisted-living facility.
"I like the idea of taking care of people in an environment where they're in control," Turmes said. "As long as they're in their own home, they're in control."
Also, she said, helping the elderly and people with disabilities live in their own homes costs considerably less than institutional care.
Born and reared in South Dakota, Turmes moved to Lawrence in 1975. She joined Visiting Nurses in 1982.
Turmes oversees about 100 employees. She also runs VNA's hospice.
"We consider our aides to be at the heart of what we do," Turmes said.
Most aides, she said, start at $8 an hour.
"It's hard work," she said. "It's something you have to want to do."
Copyright 2018 The Lawrence Journal-World. All rights reserved. This material may not be published, broadcast, rewritten or redistributed. We strive to uphold our values for every story published.