Longtime coach Marian Washington didn't duck any questions at Kansas University women's basketball media day on Wednesday.
Before any questions were asked, Washington conceded the Jayhawks are in rebuilding mode.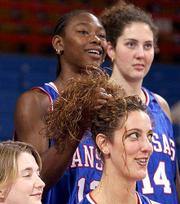 She didn't wait for the inevitable query about who would pick up the scoring slack after losing 66.4 percent of last year's offense. She made it known that the offense would probably struggle and the team would focus on defense.
Washington acknowledged her team lacks a true power forward, a position that Jaclyn Johnson, now in the WNBA, vacated because of graduation.
"We're a program that has always competed in the Top 25," Washington said. "Every once in a while you find yourself at a juncture to rebuild."
Washington never publicly stated last season's team, which finished 12-17 overall and 5-11 in the Big 12, was experiencing growing pains, but that seemed to be the case.
Kansas returned six players last season who had extensive playing experience and Washington tried to fill the holes with junior college transfers. The Jayhawks finished the season with their worst record since 1989.
This year Kansas has just four players back KC Hilgenkamp, Kristin Geoffroy, Selena Scott and Nikki White with any meaningful game experience, but none averaged more than eight points a game. Hilgenkamp's 7.6 points per game tops the returnees. Scott and White both averaged 5.1 and Geoffroy scored 4.4.
"I know it's a rebuilding year, but what can you do?" Scott said. "I think everyone knows it. I knew it was one last year after we lost Lynn Pride and Suzi Raymant."
Last year, three junior college transfers and Leila Mengo had played for a club team in Stockholm, were recruited to fill the gaps left by Pride, Raymant and Heather Fletcher.
Only Hilgenkamp made an impact.
Hilgenkamp started 22 games, but was hesitant at times to shoot. When she did there was a good chance the ball would slip through the net. She hit 41.3 percent of her three-point attempts (31 of 75).
"We need players like KC to step up and shoot," Washington said. "We lost 11 games by 10 points or less last year. I felt if we got more scoring from players like KC we could've turned things around."
Hilgenkamp has embraced her new role.
"Last year I think I was just trying to adjust to a new style of play," she said. "I know I need to step up this year during games."
Unlike last year, Kansas has only one junior college transfer sophomore Keila Beachem and five high school graduates.
Washington called this her best recruiting class in three years, adding that none of the six newcomers would red-shirt. She plans for Beachem; Blair Waltz, a 6-foot forward from Blue Valley North; and Brandi McGinest, a 5-foot-10 guard/forward from Long Beach, Calif., to contribute immediately.
"There's not really any added pressure on me because of that," Waltz said. "I knew when I signed the national letter of intent a year ago that I would be in this position."
Washington said she hoped Sharonnpencer, who red-shirted her freshman year and missed last season because she tore her anterior cruciate ligament during a pre-season practice, and Beachem would fill the void at power forward.
Washington knows her 29th season could be a long one, and she stressed she'll try to be patient.
"This year, anything can happen at any time," she said. "I need to let up on myself. Not that we won't push hard. If we're all patient, it's going to be all right very soon."
Copyright 2018 The Lawrence Journal-World. All rights reserved. This material may not be published, broadcast, rewritten or redistributed. We strive to uphold our values for every story published.