Doha, Qatar — Leaders of Islamic nations called on the world to address the roots of terrorism and expressed concern Wednesday over the death of Afghan civilians in the U.S.-led bombing campaign.
Ending a special session of the Organization of the Islamic Conference, the foreign ministers from the world's Muslim nations also said that Palestinians and Lebanese fighters "resisting" Israel cannot be called terrorists.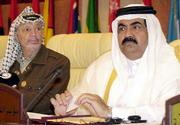 As the U.S.-led airstrikes continued Wednesday, Afghanistan's Taliban rulers sent a letter to the conference in Doha, Qatar, appealing to Muslim leaders to "stop this tragic attack by America." But Qatari diplomats said the letter was not received and it was not addressed in the final conference statement.
In the session's final statement, the 56 OIC members did not directly condemn the U.S. air campaign, instead expressing concern over the death of Afghan civilians. They appeared more concerned with the prospect of the United States expanding its attacks with strikes against an Arab nation.
Washington has said it may target other countries though it has not named them in the fight against terror, and it lists several anti-Israeli groups based in Arab nations as terrorist groups.
In the final statement, the foreign ministers rejected "targeting any Islamic or Arab state under the pretext of fighting terrorism."
Qatar's Emir Sheik Hamad bin Khalifa Al Thani, addressing the gathering's opening, condemned the Sept. 11 attacks. But he said retaliation "should not extend to any but those who carried out those attacks."
The United States has said it seeks to avoid civilian causalities in its assault. The Taliban say dozens have been killed, though only four civilian deaths have been independently confirmed.
Palestinian leader Yasser Arafat, speaking at the Doha meeting, said the world should not forget about Palestinian-Israeli violence.
"While the world is busy with the American tragedy, the Israeli government is using its military might to escalate its aggression against our people and to reoccupy our land," Arafat said.
Sheik Hamad also urged the United States to show evidence who was behind the attacks last month on the World Trade Center and the Pentagon. Some ministers said they were not yet convinced by U.S. claims Osama bin Laden was behind them.
The conference had set the date for the session late last month as it became clear the United States was preparing military strikes against Afghanistan, where the Taliban harbor bin Laden. The Taliban have observer status at the OIC but did not send a representative to the meeting.
The ministers expressed willingness to participate in a U.N.-led effort "to define terrorism without selection or double standards and by treating its causes and eradicating its roots."
Copyright 2018 The Associated Press. All rights reserved. This material may not be published, broadcast, rewritten or redistributed. We strive to uphold our values for every story published.