Washington — The next phase of the military campaign in Afghanistan is likely to be even less visible and far more dangerous for U.S. forces than the first four days of airstrikes, experts say.
The ruling Taliban's military forces have been unable to threaten U.S. bombers and strike aircraft. But much of the action from here may have to take place on the ground.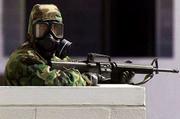 Having established control of the skies, U.S. and British forces are expected to launch secret helicopter-borne commando raids to target the al-Qaida terrorist group for airstrikes and help Afghan rebels gain the upper hand in their battle with the Taliban government.
"Discrete, in-and-out raids going after specific individuals or groups are quite possible," said Michele Flournoy, a former Pentagon counterterrorism expert.
Such raids would be mounted by special operations troops U.S. Army Rangers, the secretive Delta Force and Britain's SAS, for example.
The 31st Marine Expeditionary Unit, based in Okinawa, also could come into play, noted retired Marine Corps Lt. Gen. Fred McCorkle, who retired last month as deputy commandant. "The entire MEU is special operations-capable," he said.
And while such forces typically operate under cover of darkness, the risk of a helicopter being shot down or troops taking casualties is ever present.
"You'll probably see helicopters inserting special forces personnel and extracting them," said Sen. John McCain,R-Ariz. "You probably have to go in on the ground to make sure that the training camps and other terrorist networks are eliminated, and that means the risk of American lives."
New targets
The bombing will continue, experts said. But with the Taliban's fixed anti-aircraft defenses largely disabled and its communications disrupted, the targets will change.
Taliban troop concentrations, suspected hiding places of al-Qaida terrorists and other "targets of opportunity" will be the main focus as U.S. air forces try to "level the military playing field between the Taliban and opposition forces on the ground," Flournoy said.
Defense Secretary Donald Rumsfeld said Tuesday that one goal was to help the opposition overthrow the Taliban, though the United States isn't backing the Northern Alliance specifically.
"The other piece of phase two is to make it uncomfortable or unsafe for members of the al-Qaeda network to stay in hiding and force them to move somehow," Flournoy said. "When they move, we'll potentially have the opportunity for direct action."
Among the weapons U.S. air forces used Wednesday as they sought to put al-Qaida on the run was a 5,000-pound "bunker-buster" warhead the BLU-109 designed to penetrate concrete bunkers. The warhead punches through earth or concrete and explodes when it hits a cavity.
The BLU-109 can be loaded on a variety of bombs such as the laser-guided GBU 28 and missiles that are laser-guided or use the satellite global positioning system to find their targets, said Air Force spokesman Chief Master Sgt. Andy Stanley.
Special operations
Noting Afghanistan's cavernous terrain, Army Col. Bill Darley, spokesman for the joint Special Operations Command in Tampa, Fla., said U.S. special operations troops also "know how to go into caves."
"We've got good cave people," Darley said, declining to discuss specific techniques troops might use in such situations.
Pentagon officials refuse to discuss possible operations. Darley, however, noted that the Special Operations Command "has some of the assets you can bring to the table all of which are applicable, depending on what the president wants to do."
Among others, they include:
Three battalions of 600-700 men in the Army's 75th Ranger Regiment. "These are the best-trained light infantry the Army has," Darley said.
Special Forces, or Green Berets, whose main job is to train, organize and lead irregular forces behind enemy lines. Green Berets already are working with the Northern Alliance rebels in Afghanistan, according to reports from the region.
The 160th Special Operations Aviation Regiment, based at Fort Campbell, Ky. The 160th flies specially outfitted MH-60 Blackhawk assault helicopters, MH-47 Chinook medium-lift transport helicopters and armed AH-6 and MH-6 "Little Bird" choppers, used for reconnaissance and transporting small teams of commandos.
Air Force Special Operations Command, which operates MH-130 transport aircraft and AC-130 gunships, which carry Gatling guns and cannon able to obliterate targets on the ground in a hail of bullets.
The Air Force also has commando teams trained to parachute into enemy territory, or "fast rope" down from a helicopter, to give medical treatment to pilots who have been shot down and injured.
"All these forces spend most of their time training at night," Darley said.
Taliban weapons no threat
Taliban forces are known to have U.S.-made, shoulder-fired Stinger anti-aircraft missiles that could pose a threat to helicopters though their range is too short to threaten high-flying strike aircraft.
But retired Marine Corps Gen. McCorkle, who flew 1,500 combat missions as a helicopter pilot in Vietnam, said almost all military choppers today are equipped with countermeasures that can defeat a heat-seeking Stinger, such as flares that trick the missile into missing.
The Stinger "is a big concern," he added, "but from what I know and it's quite a bit I don't think these guys (the Taliban) have nearly the capability that the opposing force had in Kosovo. I wouldn't hesitate. I'd love to lead the first mission in there."
Copyright 2018 The Lawrence Journal-World. All rights reserved. This material may not be published, broadcast, rewritten or redistributed. We strive to uphold our values for every story published.