Ali Ezzeddine of Lawrence said he made a brief error at the worst possible moment Sept. 11, and the mistake has cost him peace of mind ever since.
On that day, as the nation reeled from terrorist attacks, Ezzeddine, manager of the Conoco on 23rd Street and Haskell Avenue, raised the price of gasoline to $5.62 per gallon.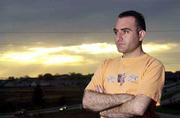 He said he raised the price to try to disperse unmanageable crowds that had come to his store. But others accused him of trying to gouge customers.
Wednesday, Ezzeddine and representatives from 62 other service stations statewide agreed to settle with the state Attorney General's Office, which had threatened lawsuits under the Kansas Consumer Protection Act.
Under the agreement, Ezzeddine and the others paid $750 each to charities helping out in the Sept. 11 relief efforts, $250 each in fees to the Attorney General's Office and have made refunds to customers who paid the increased prices. Ezzeddine said he paid refunds to about 12 customers.
Atty. Gen. Carla Stovall said she was pleased the stations "were willing to admit their mistake."
"These settlements can put an unconscionable result of the tragedy behind us, along with assurances from the retailers that this type of situation will not occur again," she said.
Ezzeddine was apologetic, but said he never meant to cheat anyone.
"I want to apologize to everyone," Ezzeddine said. "In the bottom of my heart, I don't believe I did anything wrong. It was just five minutes, and I was confused and the crowd was out of control."
Around rush hour on Sept. 11, Ezzeddine said lines started forming as rumors flew that because of the terrorist attack there might be gas shortages.
Ezzeddine said some people had driven off without paying for their gas, and others were in the store stealing items.
He said he tried to close the store, but some people told him that was illegal. Ezzeddine, a native of Lebanon who has lived in the United States three years, said he then raised the price of gas to try to get people away from the store.
"It was a terrible day for everybody," he said. "I lost control. I was scared," he said, partly because he feared that people would retaliate against him because he is Arabic.
He said he was only too happy to provide refunds and pay money into the relief fund.
Since that day, he said, he has been too shaken up to return to work. He said he has taken vacation to recover.
The 26-year-old said he doesn't know when he will return to work but that he will never leave Lawrence because he loves it here.
"I just want to thank my wife (Gerda) and all my friends who have stood by me," he said.
In addition to the settlements, the Attorney General's Office announced it will file a lawsuit against the Charles R. Wood Oil Co. of Leavenworth.
The company did not accept the agreement, Stovall said. Twenty-five of the company's stations will be involved in the lawsuit, located in numerous cities, including Lawrence.
The lawsuit seeks up to $10,000 for each advertisement and sale of over-priced gas. Officials with Wood Oil could not be reached by the Journal-World for comment.
Copyright 2018 The Lawrence Journal-World. All rights reserved. This material may not be published, broadcast, rewritten or redistributed. We strive to uphold our values for every story published.