Stockholm, Sweden — Three Americans won the Nobel Prize for economics Wednesday for research into how the control of information influences everything from used car sales to the boom in high-tech stocks during the 1990s.
George A. Akerlof, 61, of the University of California at Berkeley; A. Michael Spence, 58, of Stanford University; and Joseph E. Stiglitz, 58, of Columbia University will share the $943,000 award.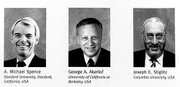 The laureates laid the foundation in the 1970s for a general theory about how players with differing amounts of information affect a wide range of markets.
Research into "asymmetric information" gave economists a way to measure the risks, for example, faced by a lender who lacked information about a borrower's creditworthiness.
It also explored how people with inside knowledge of a high-technology company's financial prospects gain an edge over other investors, while people who don't fully understand a company's finances may invest unwisely.
The theory helps economists explain why the recent bubble in high-technology stocks burst.
The winners' contributions "form the core of modern information economics," the Royal Swedish Academy of Sciences said in a written announcement.
The award, known formally as the Nobel Memorial Prize for Economic Sciences, was the second prize announced Wednesday.
Wednesday morning, two Americans and a Japanese scientist shared the chemistry prize for showing how to better control chemical reactions, leading to medicines including a treatment for Parkinson's disease.
William S. Knowles, 84, of St. Louis, and Ryoji Noyori, 63, of Nagoya University in Japan shared half the award. K. Barry Sharpless, 60, of the Scripps Research Institute in La Jolla, Calif., won the other half.
The literature prize will be announced today; the peace prize will be announced on Friday in Oslo, Norway.

Copyright 2018 The Associated Press. All rights reserved. This material may not be published, broadcast, rewritten or redistributed. We strive to uphold our values for every story published.