Matthew Jones lives in Eudora but does most of his shopping in Lawrence. Few of his dollars, however, make their way downtown.
"I hardly ever go down there," he said Wednesday while shopping at Wal-Mart, 3300 Iowa. "Most of the places down there are more expensive. I can find whatever I need without going down there."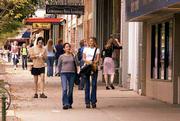 Such attitudes may lead to a change in Horizon 2020, the document that guides the city's growth.
Downtown Lawrence has a special place in the city's heart, planning officials say, but it no longer is the only big shopping district South Iowa Street also shares that distinction.
So proposed revisions to Horizon 2020 would call downtown "a" primary commercial center instead of "the" primary center. Other new language would affirm downtown's role as a "cultural and historical center" for the city.
Still, the change in emphasis prompted concerns Wednesday from one Lawrence-Douglas County planning commissioner, who remembered the city has used downtown's primacy in the plan to fend off other big commercial developments.
"Last time around, we stopped a mall based on the tool you're getting rid of," Commissioner David Burress said. "Could we still stop a mall without that? Do we still want to?"
"Yes and yes," Commissioner Myles Schachter answered.
The discussion came at a Lawrence-Douglas County Planning Commission study session on proposed changes to Horizon 2020's commercial land-use chapter. Planners were careful to stress that the proposals are far from final and might be significantly changed before the commission is asked to approve them, probably in December.
In the 1970s and '80s, Cleveland developers tried to build a regional mall in Lawrence, either on the city's outskirts or downtown. Opponents said the outskirts location would damage downtown businesses and that the downtown location would destroy downtown buildings.
The city denied rezoning requests for the "cornfield" mall in 1981 and 1988. It ultimately fought off a lawsuit by the developers, in part because the city's comprehensive plan did and still does emphasize downtown as the main shopping district.
Instead of a mall, though, a series of "big box" stores have sprung up along South Iowa Street during the 1990s, and they rival downtown for business. Schachter said refusing to acknowledge that might actually make it harder to protect downtown from competing commercial developments in the future.
"It actually makes the plan weaker," Schachter said. "A court might not uphold the plan if reality is different from what it says."
Protection of downtown would continue by literally putting it in a class by itself, instead of continuing to lump it in with other so-called "regional commercial centers."
"Downtown needs to be called out as its own center; it needs to have its own definition," city planner Bryan Dyer said. "It's important for the comprehensive plan to recognize that it is unique and that it is something that should be preserved."
Other proposed changes to the city's commercial land-use policy:
Commercial nodes would be defined to include an entire intersection, instead of each corner at an intersection clearing up a definitional debate between developers and planners.
New maximum sizes would be given for different classes of commercial development.
Redevelopment for neighborhood commercial areas would be made easier, instead of forcing old lots to comply with newer rules.
Copyright 2018 The Lawrence Journal-World. All rights reserved. This material may not be published, broadcast, rewritten or redistributed. We strive to uphold our values for every story published.