If you know anything about the history of Lawrence's oldest organic cooperative grocery store, the Community Mercantile, Tom Kreissler wants to talk to you.
About 1 1/2 years ago, Kreissler was commissioned by Amy Fields, former general manager of the co-op, to uncover the store's history to commemorate its 25th anniversary.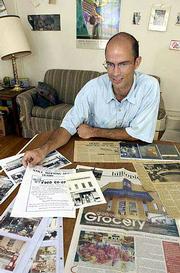 The project is funded by a $3,300 Kansas Humanities Council oral history grant that is being matched by the Community Mercantile.
Kreissler said he began his research in the Kansas Collection at the Kenneth Spencer Research Library at Kansas University, where he found old newsletters and other published articles about the store. He wrote down the names he found in the publications and started trying to contact those people.
"I came up with a list of 250 to 300 names in the newsletters. I gave the list to (Lawrence mayor) Mike Rundle, and he came up with other names," he said.
At first, Kreissler said, he anticipated interviewing 30 to 35 people, but he soon got hooked on the stories he was hearing. A KU graduate student in English, he suspended work on his dissertation and wound up interviewing 74 people 36 women, 38 men, from Sedgwick, Maine, to Bellingham, Wash.
The people he interviewed include Chuck Magerl, who managed the co-op from 1976 to 1984; Caryn Goldberg, a co-op member since 1983; Hal Sears, a co-op member since 1977; Jim Mayo, a KU professor and author of "The American Grocery Store"; Kelly Kindscher, a co-op member since 1975; Nancy O'Connor, the co-op's current nutrition educator and marketing director; Tim Miller, a co-op member since 1976; and Dan Nagengast, Rolling Prairie Farmers Alliance and director of the Kansas Rural Center.
The interviews trace the Community Mercantile's history from its origin in the mid-1970s, through its controversial move from 615 Mass. to 700 Maine, then its relocation to 901 Miss. and finally the move to 901 Iowa, its current location.
Interviewees discussed the events that started Community Mercantile, reminisced about specific events and people involved in the co-op's operation.
Kreissler plans to submit his transcripts to the Spencer Library and Watkins Community Museum of History. He also wants to create a Web site that will incorporate the tapes, photographs and other materials he has collected.
Copyright 2018 The Lawrence Journal-World. All rights reserved. This material may not be published, broadcast, rewritten or redistributed. We strive to uphold our values for every story published.