New York — Mark Mulder and the Oakland Athletics came of age Wednesday night. The New York Yankees are revealing signs of aging.
Mulder, showing no nerves in his first postseason appearance, held New York to one run, and Terrence Long homered twice to lead Oakland to a 5-3 win over the World Series champions in the opener of their first-round AL series.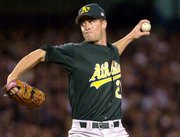 "I couldn't believe how focused I was," the 24-year-old Mulder said. "I was in tunnel with my catcher. I didn't hear the crowd, my teammates or anybody. It wasn't like a regular-season game. There was a lot more adrenaline and a lot more emotion."
Jason Giambi also homered for the A's, who beat Roger Clemens in Game 1 of a best-of-five series for the second straight year. But after losing last year in five games, the A's know their work is not done.
"I hope it turns out different," Oakland manager Art Howe said. "We learned a valuable lesson last year. Just because we win the first game doesn't mean the series is over. We have to keep playing quality ball."
Game 2 is tonight with Andy Pettitte (15-10) pitching for New York against Tim Hudson (18-9).
"We had high hopes for this first game," Yankees manager Joe Torre said. "We're going to have to dig deep and win tomorrow."
Clemens left with a tight right hamstring after walking Giambi to lead off the fifth. He will be re-evaluated today. Clemens hurt himself fielding Johnny Damon's infield hit in the fourth inning.
There was tight security and an increased police presence at Yankee Stadium in response to last month's terrorist attacks. But nothing could keep the 56,697 fans away as New York began its run for a fourth World Series title.
This year could be toughest, as Oakland offers the stiffest first-round competition for the AL East champion Yankees during this run.
After nearly ending New York's run last season, the wild-card A's used two elements that were missing a year ago: a healthy Mulder and Damon's speed. Damon, a disappointment in his first year in Oakland, showed why the A's acquired him in the offseason from Kansas City. He went 4-for-4 with a walk, two steals and a run scored.
"That's what he can do for us," Howe said. "He can make things happen, get on base, steal bases and score some runs."
But the biggest difference was Mulder, who missed last year's playoffs with a bad back before bouncing back with 21 wins this season.
Mulder showed composure beyond his years, taking control early. The first two runners of the game reached for the Yankees on an error by second baseman Frank Menechino and a single by Derek Jeter.
Last year, the young A's were undone by fielding blunders in their first playoff game. But Mulder wasn't fazed, getting Bernie Williams to hit into a double play and striking out Tino Martinez.
Mulder allowed seven hits and struck out five in 6 2-3 innings. The 6-foot-6 left-hander overpowered New York's dangerous lefty bats. Martinez, Paul O'Neill, and David Justice went 0-for-9 against Mulder and didn't get a ball out of the infield.
After an emotional pregame ceremony to honor the city's rescue workers, the A's backed up Howe's bravado with a run in the first. Damon singled, stole second, went to third on Miguel Tejada's groundout and scored on Giambi's sacrifice fly.
Copyright 2018 The Associated Press. All rights reserved. This material may not be published, broadcast, rewritten or redistributed. We strive to uphold our values for every story published.