New York — Urging people not "to let terrorism hinder us," Mayor Rudolph Giuliani refused to bow to fear Monday, marching in a Columbus Day Parade that combined a traditional celebration of Italian-American heritage with a patriotic theme.
Security was racheted up Monday in the city still counting its dead from the Sept. 11 attacks. Following U.S. military strikes in Afghanistan, the U.S. State Department is warning about the possibility of "strong anti-American sentiment and retaliatory actions against U.S. citizens and interests throughout the world."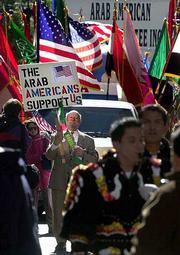 As the parade began at noon in midtown Manhattan, Giuliani said "this demonstrates that we're going ahead with our lives. We're not going to let terrorism hinder us."
Called "The Columbus Day Parade Honors America," the event began with a rendition of "God Bless America" as marchers began moving up the 30-block parade route on Fifth Avenue.
The parade felt like a celebration of the Fourth of July, dominated by American flags and marching bands playing patriotic songs. Along the route, spectator Tish Cianciotta, of Brooklyn, said the parade was "very touching this year, very poignant."
Giuliani walked at various times with Gov. George Pataki and Sen. Hillary Rodham Clinton, taking an hour to walk the entire route. Mayoral candidates Michael Bloomberg, Mark Green and Fernando Ferrer marched as well.
Police and firefighters were represented by vehicles from each department, rather than their usual complement of marchers. The Fire Department lost 343 members in the attack that destroyed the World Trade Center; the NYPD lost 23 officers.
Following Sunday's retaliatory strikes, the city increased security at airports, bridges, tunnels and landmarks such as the Empire State Building. Giuliani said 4,500 National Guard members and additional police officers were deployed throughout the city in areas "that might be possible targets in minds of terrorists."
Before the parade, a Mass at St. Patrick's Cathedral offered prayers for terror victims and heroes at home, and combatants and innocent civilians in Afghanistan. It concluded with the "The Star-Spangled Banner."
"We are so much in need of faith in the aftermath of this terrorist attack which has shaken the foundations of our way of life," Nicholas Di Marzio, bishop of Camden, N.J., said in his homily. Cardinal Edward Egan was in Rome.
Copyright 2018 The Associated Press. All rights reserved. This material may not be published, broadcast, rewritten or redistributed. We strive to uphold our values for every story published.