Washington — The U.S.-led bombing campaign in Afghanistan has been at least modestly successful against its first set of targets, senior Pentagon officials said Monday.
Five long-range bombers a pair of B-2 stealth bombers flying from Whiteman Air Force Base, Mo., and three B-1B's from the Indian Ocean island of Diego Garcia joined 10 strike planes launched from aircraft carriers in the Arabian Sea in sending bombs and missiles at air defense and other military targets across Afghanistan.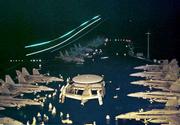 The Pentagon initially said 10 bombers were involved but it later corrected the number to five. Officials later said that all the aircraft returned safely after the missions.
Two U.S. Navy ships, the destroyers USS John Paul Jones and USS McFaul, and one submarine launched a total of 15 Tomahawk cruise missiles.
In Sunday's opening assault, 15 bombers and 25 carrier-based strike aircraft participated. A British submarine was among the vessels that fired 50 cruise missiles in Sunday's attacks but none were involved Monday, U.S. officials said.
Officials said early indications were that strikes against air defense sites and airfields were at least partially successful, although it was less clear in the case of "leadership targets" leaders of both the al-Qaida terrorist network and the Taliban militia that harbors the terrorists.
In addition to Monday's bombing, C-17 cargo planes air dropped about 37,000 packages of food rations for displaced civilians in Afghanistan, Rumsfeld said. A similar mission was carried out Sunday, and officials said they expected to continue the humanitarian air drops for at least several more days.
Measuring success
In revealing more details about the first salvos of missiles and bombs, Air Force Gen. Richard Myers, chairman of the Joint Chiefs of Staff, cautioned that the number of munitions fired and the number of targets hit are not the best measure of success for President Bush's campaign against terrorism.
"In this kind of warfare, against this kind of enemy, the true measure of effectiveness, in my opinion, will not necessarily be in numerical terms," Myers said at a joint news conference with Defense Secretary Donald H. Rumsfeld. Success depends on weakening the Taliban, aiding opposition groups, feeding displaced Afghans and demonstrating that harboring terrorists will not go unpunished, he said.
Rumsfeld made a similar point.
"There is no silver bullet," he said. "The cruise missiles and bombers are not going to solve this problem. We know that. What they can do is to contribute by adding pressure, making life more difficult, raising the cost for the terrorists and those that are supporting the terrorists, draining their finances and creating an environment that is inhospitable to the people that are threatening the world."
Even though the Taliban have only a rudimentary military, the U.S.-led bombing is not aimed mainly at those forces, he said.
"It's unlikely that the airstrikes will rock the Taliban back on their heels," Rumsfeld said. "They have very few targets that are of high value that are manageable from the air."
Rumsfeld declined to discuss the possibility of sending U.S. ground forces into Afghanistan.
Military targets
Like any air campaign, early strikes have targeted air defenses that jeopardize allied pilots. And some strikes have been aimed at military command and control facilities, airfields and the small number of Taliban aircraft on them, as well as the training camps of the al-Qaida network, Myers said.
But more broadly, the military campaign is meant to paralyze al-Qaida's operations inside Afghanistan and set the stage for opposition groups like the northern alliance to put further pressure on the Taliban and eventually topple the religious militia.
"The only way that the Afghan people are going to be successful in heaving the terrorist network out of their country is to be successful against ... that portion of Taliban and the Taliban leadership that are so closely linked to the al-Qaida," he said.
"We are working with the elements on the ground that are interested in overthrowing and expelling that group of people," Rumsfeld said.
In a related development, another 1,071 members of the Army Reserve and Army National Guard were called to active duty as part of a mobilization authorized by Bush shortly after the Sept. 11 attacks. Among those called up are personnel who specialize in criminal investigation, infantry or special operations.
In all, 27,025 reservists from 44 states, the District of Columbia and Puerto Rico have been called up.
Copyright 2018 The Associated Press. All rights reserved. This material may not be published, broadcast, rewritten or redistributed. We strive to uphold our values for every story published.