In the days after Japan attacked Pearl Harbor on Dec. 7, 1941, American patriotism skyrocketed. But it was not as obvious as in the aftermath of the Sept. 11 terrorist attacks.
"We didn't have the T-shirts and the poetry and the signs everywhere like we see now," recalled 85-year-old Dorothy Knox.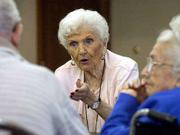 And there wasn't the same fear, recalled Gil Munroe, 81.
"People were concerned about World War II but not fearful," he said.
Those are just a few of the differences Knox, Munroe and other residents of Brandon Woods Retirement Community have noticed in the ways people reacted to Pearl Harbor in 1941 and to the New York and Washington, D.C., terrorist attacks last month.
Russell Jensen, 92, a retired physician, had a ringside seat to the attack on Pearl Harbor. He was just finishing his shift in a U.S. Navy hospital a short distance from Battleship Row when the attack came. His wife, Alice Jensen, 92, was at their apartment near Pearl Harbor.
On Sept. 11 they watched the attack on New York from the safety of their Brandon Woods apartment but worried about their son, who works for the New York Port Authority, which owned the World Trade Center. Fortunately, as it turned out, their son, Eric Jensen, was not at the twin towers that day.
But Russell Jensen understands the fear some Americans have about another unexpected terrorist attack in their homeland.
"We thought we might be invaded by the Japanese," Russell Jensen recalled of the days after Pearl Harbor.
"I wouldn't say there was a panic, but we were certainly on edge," Alice Jensen said.
Since Sept. 11, parents have struggled with how to explain to children what happened.
At the time of Pearl Harbor, Knox was teaching high school in Wellington. She doesn't remember students being frightened by the war. And she doesn't recall having any problem talking to students about the war.
"There wasn't the media coverage you see now," said Knox, whose husband, Carl Knox, joined the Army Air Corps and later became superintendent of Lawrence public schools. "We got all our news from the evening newspaper and radio. It wasn't the same."
Seniors in high school were worried, however, because they knew they were headed to the military, Knox said.
"A lot of people were rushing to enlist," Knox said. "That's something I don't think we're seeing now."
In World War II, Americans were confident they could defeat the Japanese and the Germans, said Munroe, who was kept out of the military because of a heart murmur.
"We had a country to fight against," said Munroe, who spent a career as an aircraft designer. "Now, I don't know. I wonder about this war."
So does Knox.
"I've seen five wars in my lifetime," Knox said. "I thought World War II was a long war. I don't think I'll live to see the end of this one."
Copyright 2018 The Lawrence Journal-World. All rights reserved. This material may not be published, broadcast, rewritten or redistributed. We strive to uphold our values for every story published.