At airports and sports stadiums, state capitols and downtown office buildings, and on the streets from Utah to New York, the nation stepped up already heightened patrols and security precautions Sunday as bombs dropped in Afghanistan.
Some officials said enough new security had been put in place since the Sept. 11 terrorist attacks, but many others took quick action.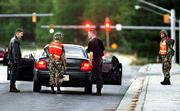 Within hours of the first strikes by American and British forces, Missouri shut the doors at its state Capitol to visitors; Utah state troopers were shifted from their desks to the highways; and airport officials in Chicago, Detroit, Kansas City and Florida further tightened safeguards.
Police in Jefferson City, Mo., cleared the state Capitol of about 50 visitors less than two hours after retaliation began in Afghanistan, despite the lack of specific threats.
"There is no indication that anything is going to happen at the Capitol, but there is an expectation that we do everything we can to protect the public," said Capitol Police Chief Lou Tedeschi. Doors were locked and many lights shut; workers were allowed to stay.
Earlier in the week, U.S. authorities had said that the nation faced a "100 percent" chance of new terrorist activity, whether or not military action began.
In Detroit on Sunday, Metro Airport spokeswoman Barbara Hogan said the Federal Aviation Administration notified officials at 2 p.m. to put additional security in place. It all will be "behind the scenes" and not noticed by passengers, she said.
Several airport representatives in Florida said they were increasing the number of visible, armed personnel at the request of the FAA. But an FAA spokesman said no request was made Sunday.
"The airports and the air carriers know exactly what to do in this event," said spokesman Chris White in Atlanta, who would not comment specifically on any changes.
At Kansas City International Airport, officials doubled Saturday's number of police officers and other security, spokeswoman Erica Hupp said. As authorities have done since the attacks, each vehicle entering parking garages has been searched, she said.
"We're asking that people just bring clean cars to the airport," she said.
Maryland Gov. Parris Glendenning dispatched additional state troopers to Sunday's football game between the Baltimore Ravens and the Tennessee Titans.
"I have raised the state's emergency preparedness to a heightened level of alertness, and we have deployed additional state troopers to large events, to the airport, and to other potential targets," Glendenning said.
Police shut down the street in front of the State Department in Washington. Police also closed a street by New York's Grand Central Terminal, while bomb-sniffing dogs checked bags at Pennsylvania Station.
In many jurisdictions, however, authorities said steps taken in the past few weeks provided enough security.
Denver police said there were no changes for Sunday's Denver Broncos-Kansas City game. "We are stretched so thin as it is, with officers working 12-hour shifts, that we are going to adhere to the original plan," Det. Virginia Lopez said.
Asked if security had been ramped up, Louisiana Gov. Mike Foster's spokeswoman, Maryanne Golsby, said: "It's been full heightened security all the way around since Sept. 11."
Copyright 2018 The Associated Press. All rights reserved. This material may not be published, broadcast, rewritten or redistributed. We strive to uphold our values for every story published.