Baltimore — While the Baltimore Ravens are proving they have the ability to return to the Super Bowl, the Tennessee Titans are struggling to win a game.
Terry Allen ran for 108 yards and the Ravens' relentless defense harassed Steve McNair and stuffed Eddie George throughout a surprisingly easy 26-7 victory.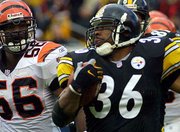 "It was supposed to be two heavyweights. One heavyweight showed up," declared Ravens tight end Shannon Sharpe, who set an NFL record for career yards receiving by a tight end (8,018).
The Tennessee-Baltimore rivalry has become one of the most spirited in the NFL, one complete with trash-talking and hard hits. On this day, the Ravens got in the last word.
"They did all the talking. We got a 40-year old back who came off the street last week and rushed for 100 yards," he said with a grin.
Actually, the 33-year-old Allen was signed in August to replace the injured Jamal Lewis.
The Ravens (3-1) limited Tennessee to five first downs in taking a 17-0 halftime lead, then cruised through the second half behind the running of Allen and Jason Brookins.
The AFC Central champion Titans (0-3) already have as many losses as they did last season, when they went 13-3 to win the division title.
Elvis Grbac completed 15 of 31 passes for 259 yards, his biggest play a 77-yard touchdown pass to Qadry Ismail
Cardinals 21, Eagles 20
Philadelphia Jake Plummer threw a 35-yard touchdown pass to MarTay Jenkins with nine seconds left.
Plummer led the Cardinals 74 yards in 1:04 for his fifth fourth-quarter comeback victory over Philadelphia (2-2) and 13th in his career. He completed passes of 16 and 28 yards to Jenkins before connecting on fourth-and-10 for the game-winner.
Browns 20, Chargers 16
Cleveland Tim Couch threw a 19-yard TD pass to Kevin Johnson with 1:15 left as Cleveland defeated San Diego, giving the Browns its first three-game winning streak since returning to the league in 1999. Doug Flutie finished 17-of-37 for 149 yards.
Giants 23, Redskins 9
East Rutherford, N.J. Damon Washington, limited to one carry in two NFL seasons, stepped in for injured Ron Dayne and ran for 90 yards on 25 carries. Washington, who spent last season on special teams and gained 1 yard on his lone carry this season, carried three times for 10 yards in the first half. Then, with Dayne sidelined by a sprained neck, he drove the Giants (3-1) to the game's only offensive touchdown Kerry Collins' 1-yard touchdown pass to tight end Dave Campbell early in the fourth quarter.
Saints 28, Vikings 15
New Orleans Ricky Williams ran for 136 yards and a touchdown, and John Carney kicked five field goals.
Dolphins 30, Patriots 10
Miami Lamar Smith rushed for 144 yards, Jay Fiedler scrambled for 37 yards and Miami's defense held New England scoreless in the final 36 minutes of an easy victory. Smith carried 29 times, scored once and topped 100 yards for the first time this season.
Bears 31, Falcons 3
Atlanta Marty Booker caught a 63-yard touchdown pass and threw for another score as Chicago routed Atlanta, which played without injured Jamal Anderson. Brian Urlacher returned a fumble 90 yards for a touchdown.
Steelers 16, Bengals 7
Pittsburgh Jerome Bettis rushed for 153 yards and became the 14th player in NFL history to rush for at least 10,000 yard.
Bettis needed 54 yards to reach the milestone. He got them on his first five carries, gaining 103 yards by halftime.
Kris Brown kicked field goals of 48, 42 and 26 yards for the Steelers.
Bucs 14, Packers 10
Tampa, Fla. Tampa Bay intercepted three of Brett Favre's passes, and Shelton Quarles returned one of them 98 yards for a touchdown against Green Bay. Mike Alstott, filling in for Warrick Dunn, ran 39 yards for the TD to cap the longest drive in Tampa Bay history.
Raiders 28, Cowboys 21
Oakland, Calif. Jerry Rice caught his third touchdown pass in two games, Tyrone Wheatley ran for two scores and Zack Crockett ran for a third as Oakland handed Dallas its fourth straight loss.
Rich Gannon finished 21-of-28 for 209 yards for the Raiders (3-1).
Seahawks 24, Jaguars 15
Seattle Trent Dilfer, replacing the injured Matt Hasselbeck, made his first start at quarterback since the Super Bowl and led Seattle past Jacksonville. Dilfer, who won his last 11 starts in Baltimore last season on the way to a Super Bowl victory, teamed with backup tight end Itula Mili for a 1-yard touchdown pass in the first quarter. A 41-yarder to Mili to set up Seattle's third touchdown in the second quarter.
Jets 42, Bills 36
Orchard Park, N.Y. Curtis Martin scored two touchdowns and rushed for 135 yards for New York, which converted four Buffalo turnovers into scores. Backup quarterback Alex Van Pelt, who took over after starter Rob Johnson was elbowed in the back of the head by linebacker Mo Lewis in the first quarter, threw for three touchdowns and almost brought the Bills (0-4) back from a 28-9 deficit.
49ers 24, Panthers 14
San Francisco Terrell Owens caught two touchdown passes from Jeff Garcia as San Francisco beat former coach George Seifert for the first time in five tries. Seifert, who led the 49ers to two Super Bowl victories in eight seasons as coach, had never lost to San Francisco since taking over at Carolina.
Copyright 2018 The Associated Press. All rights reserved. This material may not be published, broadcast, rewritten or redistributed. We strive to uphold our values for every story published.