Islamabad, Pakistan — In the hours before the U.S.-led attacks on Afghanistan, the front-line state of Pakistan braced itself for popular backlash by putting a pro-Taliban cleric under house arrest and reshuffling key military commanders.
Gen. Pervez Musharraf, the nation's president, was scheduled to hold a nationally televised news conference this morning to mollify a population that includes pockets of strong support for Afghanistan's Taliban regime and its fundamentalist Islamic principles.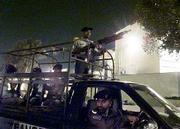 Sunday afternoon in the frontier city of Peshawar, authorities detained virulently anti-American cleric Maulana Fazlur Rehman and placed him under house arrest. Rehman is leader of the Jamiat-ul-Ulema-e-Islam party, which has staged several pro-Taliban demonstrations over the past three weeks.
On Saturday, Musharraf, who came to power in a 1999 military coup, asserted his control over the army by extending his term as chief of staff for one year. Then, only an hour before the U.S. airstrikes were launched Sunday night, he announced a reorganization of senior military commanders that stripped authority from one general known to have conservative religious views.
Gen. Mohammed Aziz Khan was moved from his powerful position as corps commander of Lahore, the Punjab provincial capital, to a more ceremonial position as chairman of the joint chiefs of staff.
According to military experts, the appointment of another officer, Gen. Mohammed Yusuf, as vice chief of army staff, was designed to neutralize other conservative elements in the armed forces. The 600,000-strong Pakistani military is considered the most powerful institution in the country.
"These were all necessary and pragmatic moves," said Lahore lawyer and author Aitezaz Ihsan. "In the wake of the attacks on Afghanistan, there is likely to be stoking of religious sentiments. It is not going to be easy for Pakistanis to live with the destruction of Afghanistan. General Musharraf has neutralized this reactionary mind-set. After all, Pakistanis are not going to be watching the attacks like U.S. citizens. They are 12,000 miles away, and we are next door."
Sharing a 1,500-mile border with Afghanistan, Pakistan finds itself in one of the most precarious positions in the region. Until recently, it was a key backer of the Taliban regime, and was one of only three states to officially recognize it as the legitimate authority in Afghanistan.
The borderlands are predominantly populated by ethnic Pushtuns, who are also the largest ethnic group inside Afghanistan. Since the 1950s, there have been periodic movements for Pushtun independence, and Pakistan considers a stable Pushtun population key to its national security.
After the Sept. 11 terrorist attacks on the United States, Pakistan was one of the first states contacted by American officials seeking support. According to U.S. Ambassador Wendy Chamberlin, Musharraf unhesitatingly agreed to join the international coalition against terrorism.
That decision has had both political and economic costs. Because of heightened security concerns, Pakistan's exports have dropped by more than 50 percent. Most international airlines canceled flights to Pakistan. Freight and insurance rates have soared.
Copyright 2017 The Lawrence Journal-World. All rights reserved. This material may not be published, broadcast, rewritten or redistributed. We strive to uphold our values for every story published.