New York — As U.S. and British military strikes began against Afghanistan, residents in the city that bore the brunt of the terrorist attacks faced heightened security at airports, points of entry and elsewhere.
But Mayor Rudolph Giuliani said Sunday that unless there are specific threats, no bridges, tunnels or public places would be closed. He urged New Yorkers to go about their business and said today's Columbus Day Parade in Manhattan would go on as planned.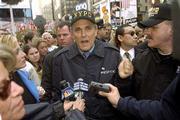 "We have to go about our normal way of life," he said after marching in a parade on Staten Island. Giuliani said he had been briefed about the impending retaliatory strikes Sunday morning but followed through on his commitment to appear at the event.
At a later briefing for reporters, Giuliani said more security checkpoints were being set up, likening the security presence to that established in the days following the attacks on the World Trade Center.
While Giuliani did not identify sensitive areas, in the past they have included local, state and federal office buildings and courthouses. Many of those were to be closed today due to the Columbus Day holiday.
The mayor said heightened security would include checks of bags and requirements that workers show photo identification to get into buildings.
He asked New Yorkers to "just realize that we have to be ... a lot more careful now than maybe we have in the past, and almost accept it as part of our way of life."
Since the Sept. 11 attacks that leveled the World Trade Center towers, police and National Guard members have helped patrol barricades around the devastated site in lower Manhattan.
City officials have said 4,979 people remain missing and 393 have been confirmed dead. Out of that figure, 335 victims have been identified.
Armed National Guardsmen arrived, as previously scheduled, at John F. Kennedy International and La Guardia airports to help with security.
At Grand Central Terminal, security had been stepped up after the terrorist attacks and an adjoining street had been closed to traffic. On Sunday, passengers were reminded to watch their bags and warned that unattended luggage would be searched.
At Pennsylvania Station, more plainclothes officers were on patrol and bomb-sniffing dogs had been deployed.
"I think retaliation's going to happen (in New York), but I don't fear it," said Ron Whillock, who was boarding an Amtrak train to Washington, D.C. "I look at it as a random act much like I would look at an earthquake or a tornado and I can't do anything to affect that."
Copyright 2018 The Associated Press. All rights reserved. This material may not be published, broadcast, rewritten or redistributed. We strive to uphold our values for every story published.