Seattle — The Seattle Mariners are fairly certain they will never be playing for their 117th win again.
Edgar Martinez was disappointed they let the chance slip away.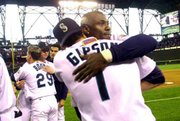 The Mariners fell one win short of setting a major league record for victories in a year, losing their regular season finale 4-3 to the Texas Rangers on Sunday.
"I'm sure everyone here knows this opportunity doesn't come around very often," Martinez said. "But it's still been a great year, and we're still in the record books."
The Mariners (116-46) equaled the record set by the 1906 Chicago Cubs on Saturday, but lost their final game when Rafael Palmeiro hit a go-ahead single off Jeff Nelson (4-3) in the ninth inning.
"When we left spring training, if you would have told me we'd win 116 ballgames and tie the record, I would have thought you'd have been smoking dope or something," manager Lou Piniella said.
The Mariners led the AL West from day one and clinched their third division title with more than two weeks to go.
They set the AL wins record of 115 on Friday, passing the 1998 New York Yankees.
Pat Mahomes (7-6) got the last out in the eighth for the win. Jeff Zimmerman worked the ninth for his 28th save.
Ichiro Suzuki went 1-for-4 and finished .350 to add the AL batting title to the seven he won in Japan. He's only the second rookie to do it. The other was Tony Oliva of Minnesota in 1964. Suzuki ended the season with a 13-game hitting streak and 242 hits the most in the majors since 1930.
Yankees 1, Devil Rays 0
St. Petersburg, Fla. Orlando Hernandez threw four scoreless innings out of the bullpen in his bid to make the postseason roster and New York beat Tampa Bay. Hernandez (4-7), who has complained of a tired right arm, made his first appearance since Sept. 29. He allowed one hit, struck out four and walked two in his final tuneup before Game 4 of the playoffs against Oakland.
Clay Bellinger made it 1-0 with a solo homer.
Athletics 6, Angels 2
Anaheim, Calif. Barry Zito (17-8) won his ninth straight start as playoff-bound Oakland concluded the regular schedule with a win over Anaheim. Eric Chavez set Oakland single-season records for homers (32) and RBIs (114) by a third baseman with one swing for the wild card Athletics (102-60).
The Athletics led the majors with a 58-17 mark after the All-Star break (.773).
Twins 8, White Sox 5
Minneapolis Brad Radke (15-11) earned his 15th victory and Matthew LeCroy drove in two runs with a pair of doubles for Minnesota. After eight straight losing years, the Twins (85-77) finished second in the AL Central .
Indians 3, Blue Jays 2
Toronto C.C. Sabathia (17-5) allowed one hit over five innings in a playoff tuneup and Cleveland beat Toronto.
Russell Branyan hit his 20th home run as the Indians ended a four-game losing skid. The Indians, who clinched the AL Central last Sunday, start their first-round series against Seattle on Tuesday.
Copyright 2018 The Associated Press. All rights reserved. This material may not be published, broadcast, rewritten or redistributed. We strive to uphold our values for every story published.